Looking for a healthy snack idea? Check out these quick and easy low FODMAP yogurt drops! These sweet treats will keep your taste buds and your tummy happy!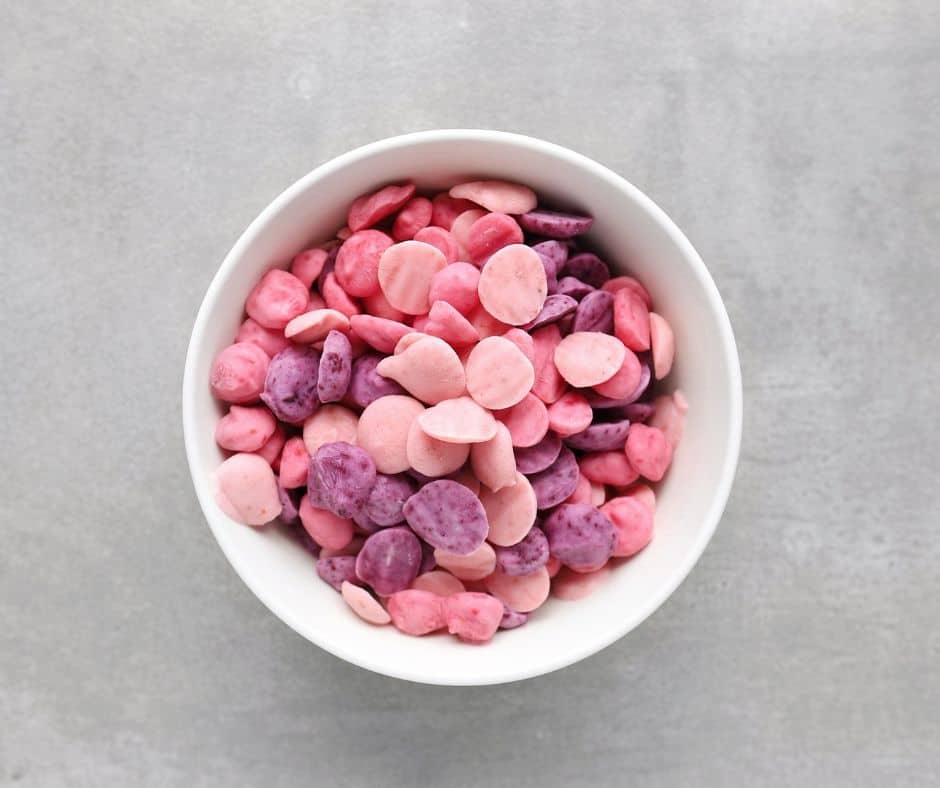 A few days ago, our real estate agent's "stager" did a walkthrough of our house to prep for our sale (yay!! / what have we done?!?). Apparently, a major staging rule is that 50% of everything in every closet, cupboard, and drawer must go!
I think the idea is that when people peep in our cupboards, they look nice and roomy. While I was fine cutting down my sprinkle collection (hello mid-move cupcakes!) I wasn't sure what to do with all the frozen fruit in my freezer.
I was pretty torn. I didn't want to throw it out. But I know our tiny freezer could use a helping hand when it comes to looking spacious. So I compromised and shrank them down to these tiny yogurt drops! Now, not only do I get to keep my frozen fruit collection, but have one more healthy snack at my fingertips when the stress munchies kick in!
While there are a few flavours pictured in this post (strawberry, raspberry, and blueberry), I've done the FODMAP math for this recipe with blueberries, specifically. Since each fruit has its own recommended serving size, make sure you adjust your FODMAP math if you use a different type of fruit.
Keep It FODMAP Friendly
These low FODMAP yogurt drops are light on ingredients, but not on flavour! Check out the notes below for tips on keeping this recipe FODMAP friendly!
First up, blueberries. According to the Monash app, blueberries are low FODMAP in servings of 1/4 cup (40 g) per sitting. Servings of 1/3 of a cup (30 g) or more are high in the FODMAP fructan.
Our recipe uses 1/4 cup of blueberries total. This means a whole batch of these yogurt drops is equivalent to one low FODMAP serving of fruit.
Next up, yogurt. If you're in the elimination phase of the low FODMAP program, you'll need to use lactose-free yogurt. For my Canadian peeps, I'm obsessed with PC's lactose-free skyr yogurt line!
Last but not least, maple syrup! Because we're using plain greek yogurt, these yogurt drops can be a little tart. If that's not your jam, try drizzling them with maple syrup, or this low FODMAP cane sugar syrup.
According to the Monash app, maple syrup is low FODMAP in servings of 2 tbsp per sitting. But, they don't list a maximum serving size. You can read more about these quirky foods here.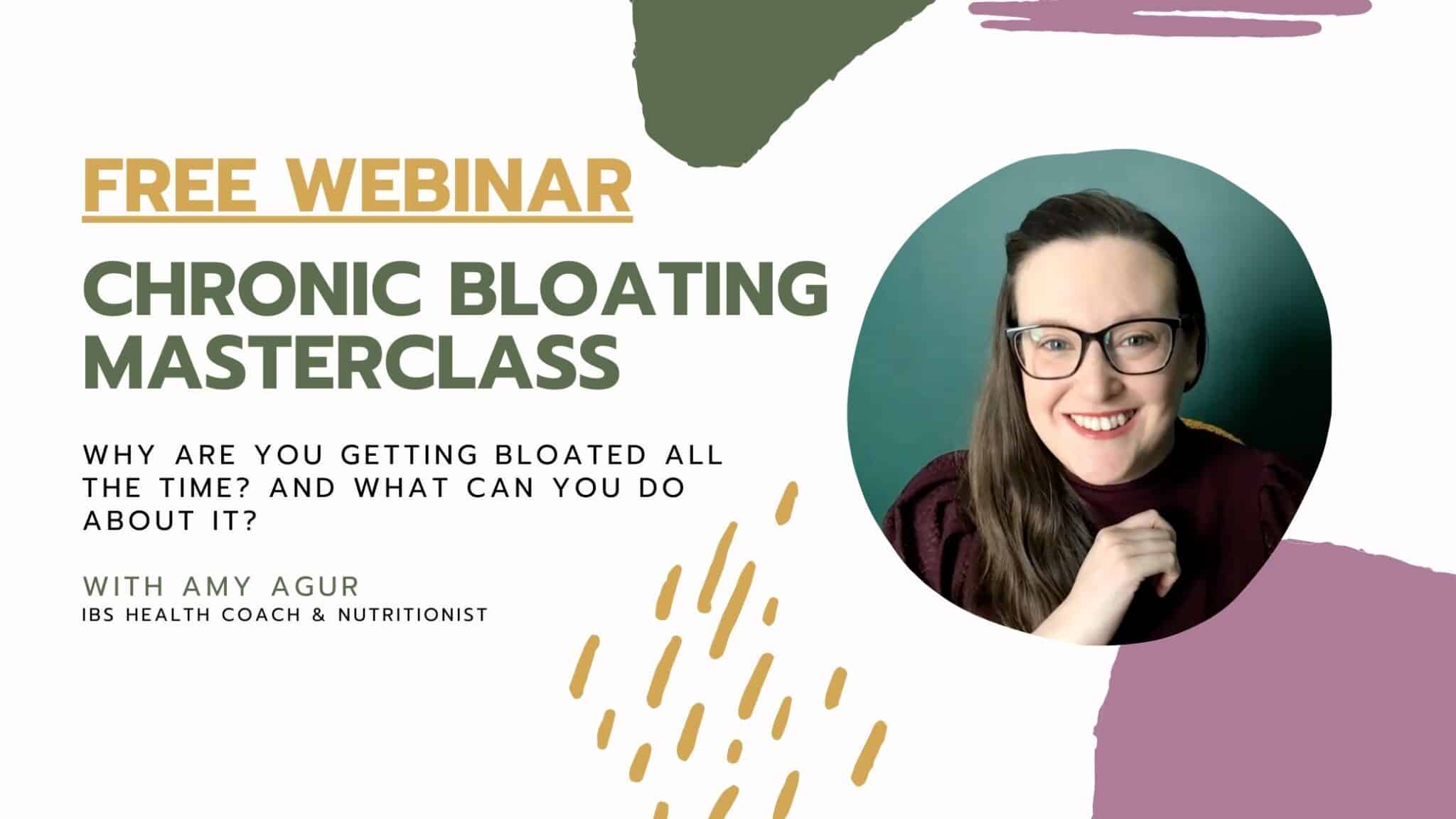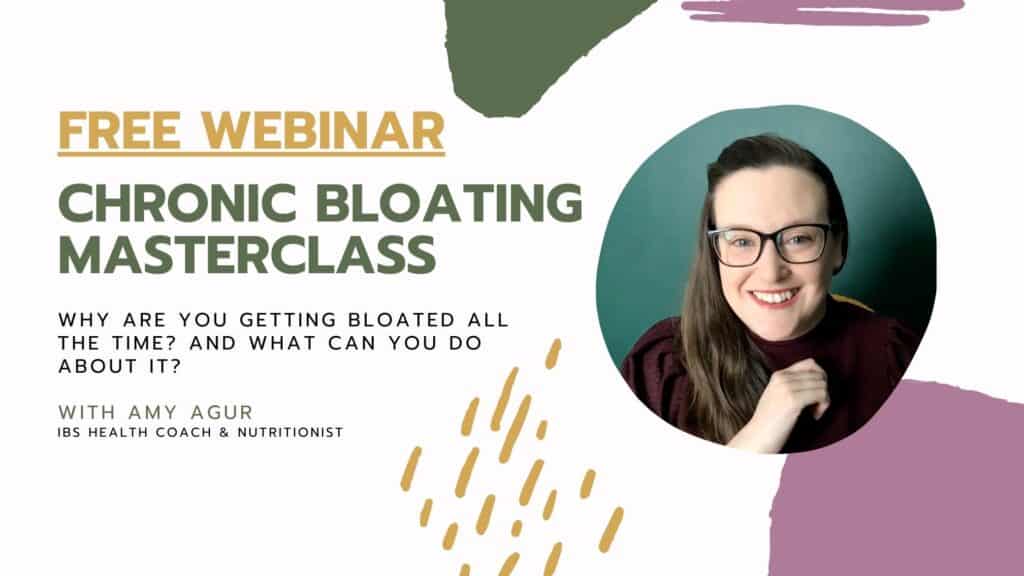 FODMAP Math
These healthy low FODMAP yogurt drops are the sweet treat you've been waiting for! Wondering how this recipe stacks up? Check out the notes below to see how many servings of each FODMAP group are in a serving of 10 yogurt drops.
Fructose = 0
Lactose = 0
Fructan = 0.3
GOS = 0
Polyols = 0
Want to try these low FODMAP yogurt drops? Don't forget to PIN THIS POST for later!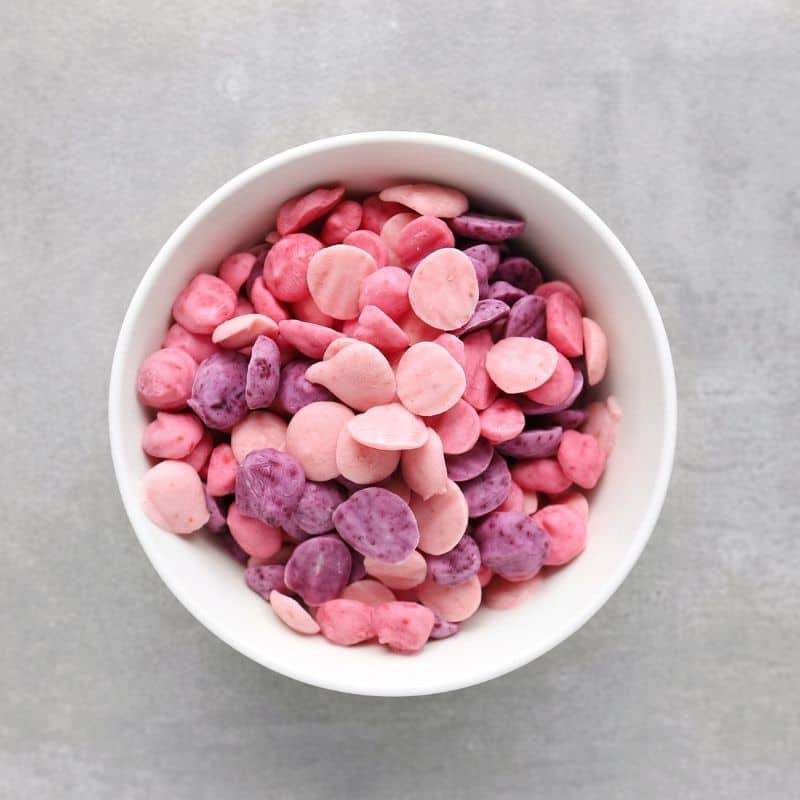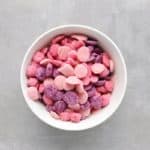 Low FODMAP Yogurt Drops
Looking for a healthy snack idea? Try these quick and easy low FODMAP yogurt drops!
What You Need
0.25

cup

low FODMAP blueberries

(thawed)

0.5

cup

low FODMAP plain greek yogurt

1

tbsp

maple syrup

*optional
What You Do
Line a baking sheet with wax paper and set it aside.

Puree your fruit until it's as smooth as possible. Add it to your yogurt and stir until it's thoroughly combined. Place the yogurt mix into a piping bag and pipe the mixture onto the prepared baking sheet in "drops." Drizzle your drops with maple syrup to make them a little sweeter (optional).

Freeze the tray for 20 minutes or more. Then pop the drops off of the wax paper and into an airtight, freezer-proof container. Drops can be stored in the freezer for up to 3 months.
You might also like one of these:
Low FODMAP Summer Bruschetta Bites Bring a little summer to your table with these quick and easy summer bruschetta bites!
Low FODMAP Strawberry Scuffins Wake up your tastebuds with these tasty make-ahead strawberry scuffins! A cheeky cross between a scone and a muffin, these sweet treats are the perfect way to start your busy day.
Low FODMAP Fruit and Walnut Salad Need to add some FODMAP-friendly fibre to your diet? Try this quick and easy low FODMAP fruit and walnut salad!
If you like this post, don't forget to share it! Together we'll get the low FODMAP diet down to a science!