Can't decide if you want something sweet or savoury? These simple low FODMAP peanut butter cookies are the best of both worlds!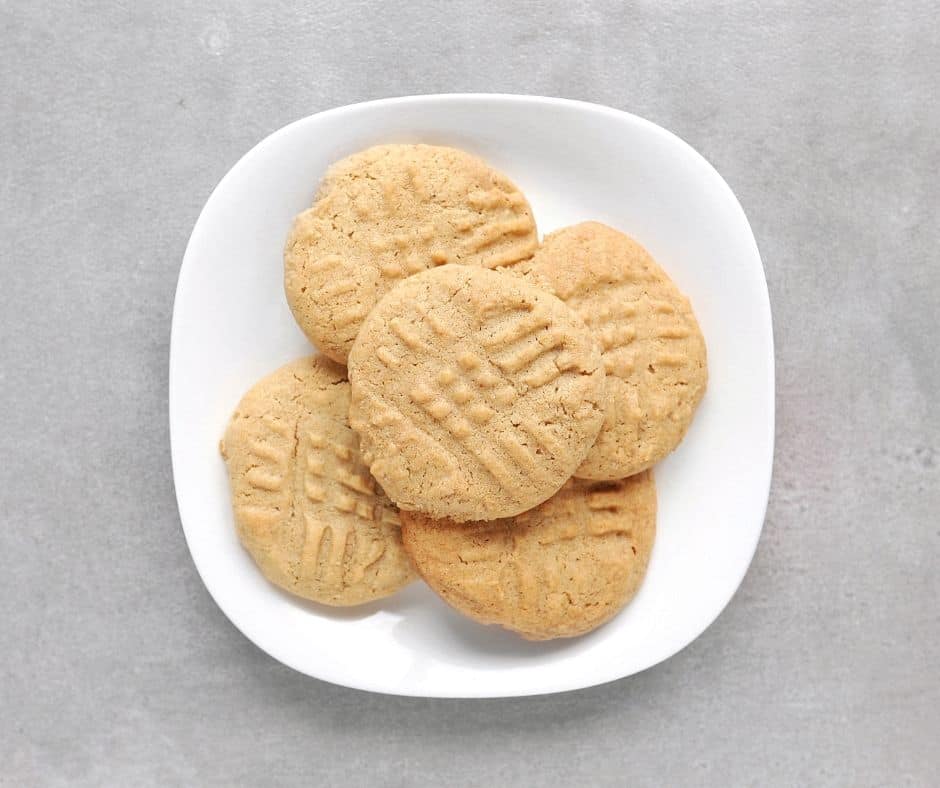 Making these cookies was an unexpected adventure! My mother in law was throwing a baby shower for one of our cousins, and she asked me to make some cookies. I love cookies, so I said no problem and got to work.
I was on my third recipe – these lovely peanut butter cookies – when my hand mixer made a terrifying noise – like it was eating itself from the inside out! The sound was so loud a contractor working in our basement popped his head in to make sure everything was ok.
It was not. My beloved hand mixer was dead. And I still had over ten more recipes to make. Luckily my mother in law was nice enough to drive over her stand mixer at 10 p.m., and we still ended up with an obscene amount of cookies (no complaints from me!). But now these peanut butter cookies have a dangerous reputation in our house! Try them if you dare!
Keep It FODMAP Friendly
These low FODMAP peanut butter cookies are the perfect mix of sweet and savoury. Check out the notes below for tips on keeping this recipe FODMAP friendly.
First up, peanut butter. According to Monash University, peanut butter is low FODMAP in servings of 2 tbsp (50 g)per sitting. Servings of 5.5 tbsp (140 g) or more are high in the FODMAPs fructan and GOS.
We'll be using 1 cup of peanut butter total, which works out to 16.6 g per serving. This is well within Monash's recommended range.
Next up, butter. Even though butter is technically a dairy product, it doesn't have any FODMAPs (because it's all fat). Check the label for added milk ingredients like milk, cream, or milk solids, and you're good to go.
We'll also be using eggs. Since eggs are a protein, they don't have any FODMAPs. So you can eat as many as you'd like without adding to your FODMAP load.
Next up, brown sugar and granulated sugar. There is a little confusion about whether sugars are low FODMAP, so let's take a moment to set the record straight.
Sugar gets a bad wrap in some online communities because it contains fructose (sugar or sucrose = 1 glucose molecule + 1 fructose molecule). If you're in the elimination phase of the low FODMAP program, you're trying to manage your intake of fructose on its own (like in fruits and honey) and fructose in excess of glucose (like glucose-fructose or high fructose corn syrup).
If your gut doesn't absorb fructose properly, the molecules will travel through your digestive system where they can get up to all kinds of trouble. But, fructose travelling with glucose is absorbed differently, so no fructose molecules are left floating around in your digestive system. This means when glucose and fructose appear in equal amounts (like in table sugar, brown sugar, icing sugar, raw sugar, etc.), they're low FODMAP.
Next up, flour. If you're in the elimination phase of the low FODMAP program, you'll need to use gluten-free flour. Make sure to check the label for other high FODMAP ingredients as well! Just because a product is free of one FODMAP doesn't mean it's free of them all.
Remember, unless you have celiac disease, you're managing your intake of the FODMAP fructan, not the gluten itself.
Last but not least, vanilla. According to Monash, vanilla only contains trace amounts of FODMAPs, so you can use as much as any recipe calls for without adding anything noticeable to your FODMAP load.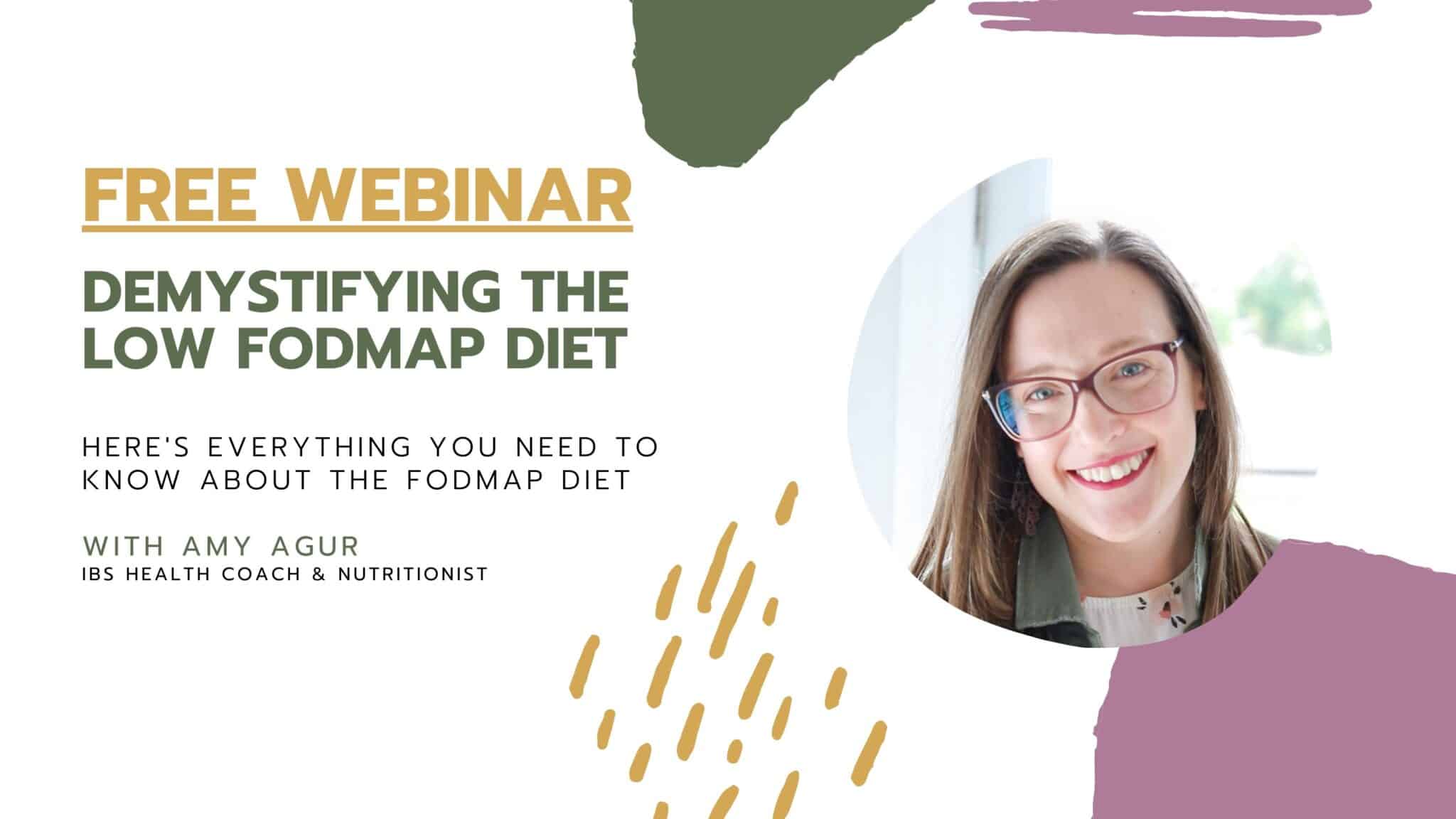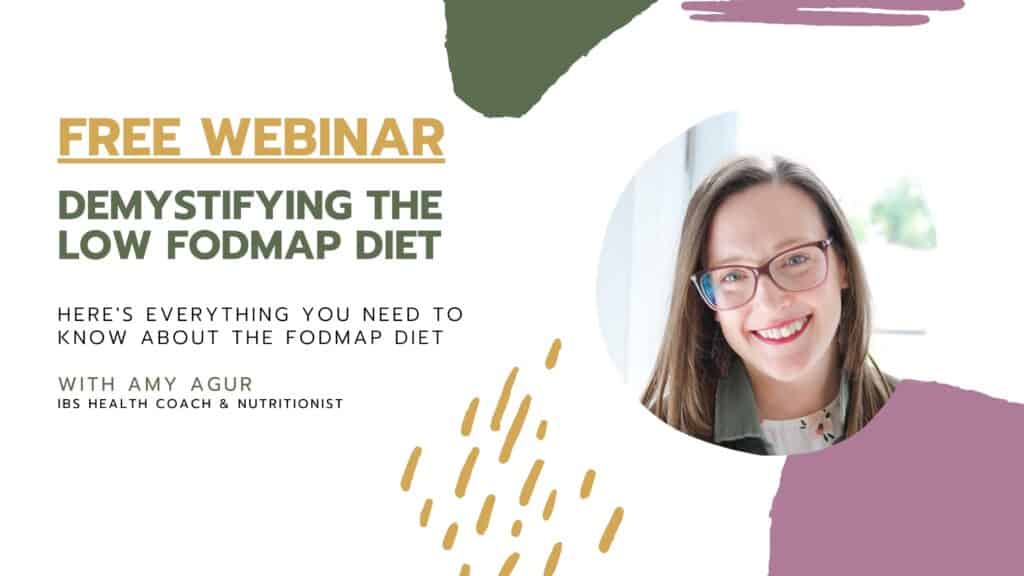 FODMAP Math
You are what you eat! Check out the notes below to see how many FODMAPs are in each of these low FODMAP peanut butter cookies. You can learn more about FODMAP stacking HERE.
Fructose = 0
Lactose = 0
Fructans = 0.3
GOS = 0.3
Polyols = 0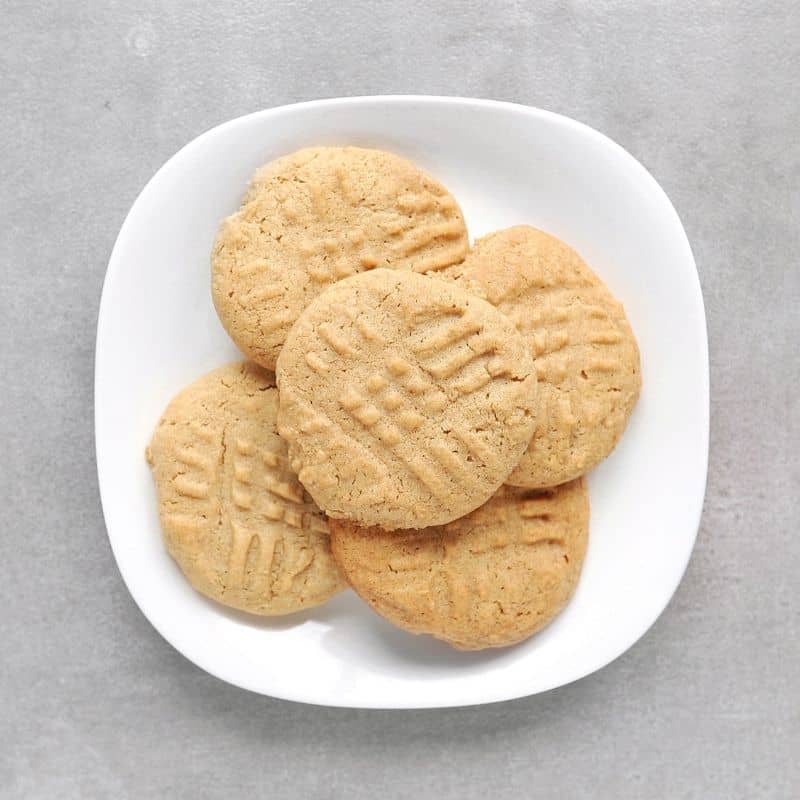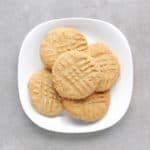 Low FODMAP Peanut Butter Cookies
Looking for the perfect afternoon pick-me-up? Try these tasty low FODMAP peanut butter cookies!
What You Need
1

cup

smooth peanut butter

1

cup

unsalted butter

(room temperature)

1

cup

brown sugar

0.75

cup

granulated sugar

2

eggs

1.5

cup

low FODMAP all-purpose flour

1

tsp

vanilla

1

tsp

baking soda

pinch

salt
What You Do
Preheat your oven to 350 degrees and line two baking sheets with parchment paper.

Cream together the butter, both sugars, and peanut butter with a hand mixer on medium speed. Then add the eggs and vanilla and continue mixing until thoroughly combined.

Sift in the flour, baking soda, and salt and stir with a wooden spoon to combine. Roll the dough into 24 balls and place them 2" apart on your prepared baking trays. Then flatten each cookie with a fork.

Bake each tray for 10-12 minutes (or until the cookies are just starting to brown). Let the cookies cook for 3-4 minutes on the baking sheet, then transfer them to a wire rack to finish cooling. Store in an airtight container at room temperature for up to 5 days.
You might also like one of these:
Low FODMAP Hazelnut Cookies Looking for the perfect afternoon pick-me-up? These low FODMAP hazelnut cookies will hit you right in the sweet tooth!
Low FODMAP Haystack Cookies Have a chocolate craving that just won't quit? Packed full of chocolate, oats, and coconut, these mouth-watering cookies will make your tummy and your taste buds happy.
Low FODMAP Cinnamon Buns Need a little magic in your life? These light and fluffy cinnamon buns are so delicious, no one will know they're low FODMAP!
If you like this post, don't forget to share it! Together we'll get the low FODMAP diet down to a science!