Are you looking for some classic comfort food? This light and fluffy low FODMAP no-rise pizza crust is ready in minutes. So, you can satisfy your pizza cravings whenever they hit!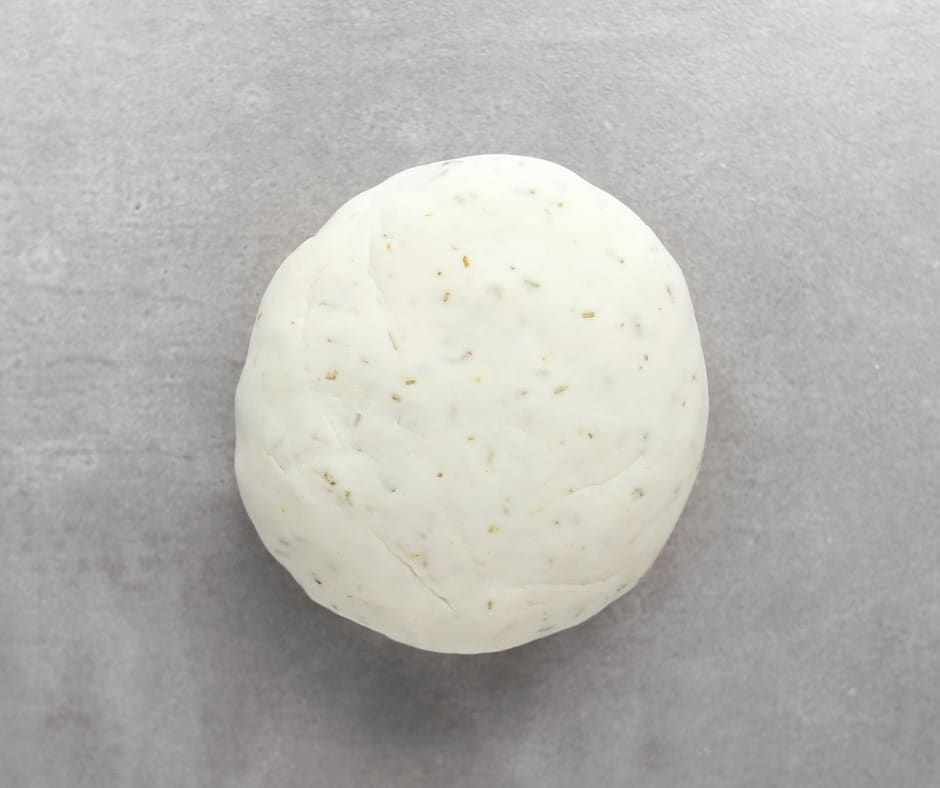 I have a bit of a love-hate relationship with low FODMAP pizza. While I love pizza as a concept, I'm not a fan of most low FODMAP pizza crusts.
Low FODMAP pizza dough can be finicky. I find it either turns out like a weird cracker, a dense, chewy mess, or, if you've added too much xanthan gum, a little slimy (um, ew!). This is not what pizza dreams are made of, friend! So, I decided to try something different.
Enter, the no-rise pizza crust!! This recipe doesn't have any yeast. So, not only is it ready in a snap, but we're taking out one variable that can cause things to go sideways.
I know what you're thinking. How do you get a light, fluffy pizza with no yeast? – The answer is baking powder! Instead of trying to re-create a stretchy pizza dough, we're going to make a tasty quick bread and cover it in pizza toppings. Brace your taste buds, friend! Your favourite pizzas are back on the menu.
Think this low FODMAP no-rise pizza sounds great, but you don't have time to try it now? Don't worry! You can PIN THIS POST for later!
Keep It FODMAP Friendly
Great news! This easy low FODMAP no-rise pizza crust doesn't have any FODMAPs! So you won't need to include your crust when calculating the FODMAP load of your pizza!
Heads up! The kind of flour you choose is still important. If you're in the elimination phase of the program, you'll need to use gluten-free flour. But, you'll also need to make sure there aren't any high FODMAP ingredients lurking in your flour blend. As long as your blend doesn't have any high FODMAP ingredients, you're good to go.
Show Your Work (FODMAP Math)
Fructose = 0
Lactose = 0
Fructan = 0
GOS = 0
Polyols = 0
Want to try this low FODMAP no-rise pizza crust? Don't forget to PIN THIS RECIPE for later!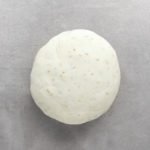 Low FODMAP No-Rise Pizza Crust
Craving some serious comfort food? This light and fluffy low FODMAP no-rise pizza crust is a pizza lover's dream come true!
Cuisine:
American, Italian
What You Need
3

cups

low FODMAP all-purpose flour

4.5

tsp

baking powder

1

tsp

salt

1

tsp

rosemary

(crushed)

11

oz

lukewarm water

(100-110 degrees)

3

tbsp

olive oil

(divided)

1

tbsp

cane sugar syrup

(or sugar)

toppings of choice
What You Do
Preheat oven to 350 degrees. If using a pizza stone, allow it to warm up for at least 40 minutes.

Combine flour, baking powder, salt, and rosemary in a large bowl. Set aside.

Combine water, 2 tbsp olive oil, and cane sugar syrup in a small bowl. Add to flour mixture and work the dough into a ball (heads up, the dough will be pretty sticky). Transfer the dough to a lightly oiled bowl and cover with oiled plastic wrap. Stick it in the fridge for 10-15 minutes to help the dough firm up.

Divide the dough into two sections and roll them into two balls. Re-cover one ball with the oiled plastic wrap. Set the other ball on a lightly floured surface. Flour your hands and rolling pin and sprinkle a small amount of flour on the dough. Squish the dough ball down with your hands and gently work it into a pizza shape. Then, roll the dough out into a 10" crust.

Gently transfer the dough to a piece of parchment paper and lightly brush the top of the dough with the remaining olive oil. Then bake the crust on the lowest rack for 15 minutes.

Remove the crust from the oven and add your toppings, then put it back in the oven until the cheese starts to bubble (about 5 minutes). Repeat with second dough ball.
Notes
This recipe makes two 10" pizzas. 
This dough does not freeze well. But, you can freeze the crust for up to 2 months once it has been parbaked. 
You might also like one of these:
Low FODMAP Arugula and Prosciutto Pizza Looking for some savoury comfort food? Made with fresh ingredients, this easy arugula and prosciutto pizza will curb any craving!
Low FODMAP Margherita Pizza Put pizza back on the menu with this classic Margherita pizza! With its light, simple flavour, this pizza will be a family favourite in no time!
Fully Loaded Low FODMAP Nachos Whether you're getting looking for a fun family recipe or settling in for the big game, these fully loaded nachos will be the talk of your table!
If you like this post, don't forget to share it! Together we'll get the low FODMAP diet down to a science!