Looking for a savoury lunch idea? These easy low FODMAP meatball subs will have even the pickiest eaters coming back for seconds!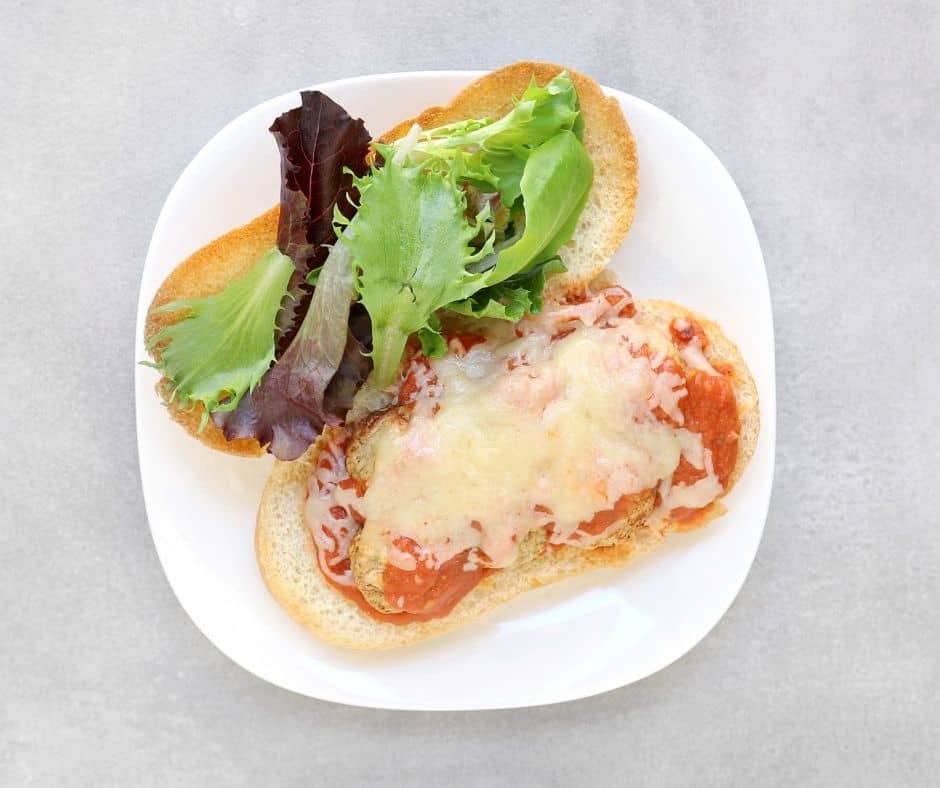 Heads up, this post uses affiliate links. If you make a purchase using one of the links I've provided, I'll receive a small sum of money. You can read more about my affiliations here.
---
Sometimes I feel like the new year can be a little daunting. It seems like everywhere you turn, the world is overflowing with green smoothies, power bowls, and the latest superfoods.
Even if you're following a mostly-healthy diet, there's so much pressure to "do better this year" that you may find yourself second-guessing what you're putting in your body.
I hear you, friend! And I want you to know, I am not immune, either!
But now that I've been around the sun a few times, I've developed a food philosophy that carries me through the whole year: sometimes I eat for my physical health, and sometimes I eat for my mental health.
That means sometimes I focus on making sure I'm eating the right balance of carbs, proteins, and fats to support my marathon training. And sometimes, it's a let's eat meatball subs in our PJs kind of day!
So if you've reached the point in January where you're 90% kale, put your salad spinner down, friend! And let me take your taste buds on a savoury adventure!
These meatball subs are the perfect winter comfort food! Made with savoury meatballs and slathered with marinara sauce and melted cheese, these little subs will carry you from game-day to your favourite movie marathon to your next PJ day (PS, this year, you should definitely book more PJ days!).
Keep it FODMAP friendly
Brace your tastebuds for a savoury adventure! These easy low FODMAP meatball subs are going to rock your socks! Check out the notes below for keeping this recipe FODMAP friendly!
First up, buns. If you're in the elimination phase of the diet, you'll need to use a gluten-free bun or a product certified as low FODMAP. For my North American peeps, Cobs Bread has a certified low FODMAP bun that tastes amazing!!!
Heads up, while their "low FOD" line is certified low FODMAP, it is not gluten-free. So if you have celiac disease, you'll need to stick with a gluten-free product.
According to Monash University, low FODMAP buns are low FODMAP in servings of 68 g per sitting. Servings of 3 buns (272 g) are high in the FODMAP fructan. We'll be using one bun per serving, which is within the recommended range.
Next up, marinara sauce. You have two options here, you can either use a low FODMAP pre-packaged marinara sauce like Fody Food Co.'s Monash certified marinara sauce, or you can make your own.
According to the Monash app, Fody's marinara sauce is low FODMAP in servings of 1/4 jar (125 g) per sitting. Servings of 3/4 jar (396 g) are high in the FODMAP fructan. We'll be using 2 tbsp of marinara sauce for each meatball sub, which works out to 56 g per serving. This is within the recommended range.
Heads up, 2 tbsp of marinara sauce is not a lot! So you have an important decision to make, friend. How invested are you in having a top to this sub? Because if you're cool going topless (hehe), you can use up to 4 tbsp of marinara sauce per sub. I'll let you think about it.
We'll also be using meatballs (obviously). Here's where you need to do a little sleight of hand! This recipe has a lot of fructans – like we're maxed out – so you're going to need meatballs that don't have any breadcrumbs. I haven't found any low FODMAP meatballs at my local store, yet. So I usually make my own.
When I need breadcrumb-less meatballs, I usually take my low FODMAP turkey meatballs and swap out the turkey for high-fat ground beef or a 50/50 split of high-fat ground beef and pork.
The fat helps the meatballs hold together in place of the breadcrumbs. Just make sure you're gently rolling the balls into shape with the palms of your hands, not squishing or compressing them into shape (or they'll turn out super tough).
I usually make a huge batch of these and freeze them, so I have them on-hand for recipes like these meatball subs! If you pack them in an airtight freezer-proof container, they should last you about three months.
Side note the FODMAP math for this recipe was calculated using my amended low FODMAP turkey meatball recipe. If you use a different recipe, don't forget to adjust your FODMAP math
Next up, mozzarella! According to the Monash app, mozzarella is low FODMAP in servings of 1/4 cup (40 g) per sitting. But this measurement is based on nutritional information, not FODMAPs.
The app clarifies that you can get up to 4 cups of mozzarella before hitting a moderate dose of lactose. So it's unlikely 1/4 cup will add anything significant to your FODMAP load. We'll be using 3 tbsp of mozzarella, which is within the recommended range, anyway.
Last but not least, mixed greens. Most forms of tiny lettuce are low FODMAP in large servings. We're only adding a handful, so they won't contribute anything notable to your FODMAP load. Make sure to double-check the ingredients in your mix against the Monash app, just to be safe.
FODMAP math
Wondering how these low FODMAP meatball subs stack up? Check out the notes below to see how many servings of each FODMAP group are in one of these tasty sandwiches.
Fructose = 0
Lactose = 0
Fructans = 1.5
GOS = 0
Polyols = 0
Want to try these low FODMAP meatball subs? Don't forget to PIN THIS RECIPE for later!
Print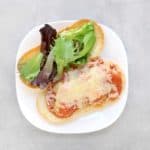 Low FODMAP Meatball Sub
---
Author:

Amy Agur

Total Time:

20 minutes

Yield:

1

meatball sub

1

x
Description
Curb your comfort food cravings with these easy low FODMAP meatball subs!
---
---
Instructions
Preheat your broiler on high for at least 10 minutes.
Cut your bun in half and lay it on a baking sheet. Broil the bun for 2-3 minutes (or until the edges are golden brown).
Spread 1/2 tbsp of marinara sauce on the bottom of the bun, add your meatballs and cover with the remaining marinara sauce. Then sprinkle with mozzarella and place back under the broiler until the cheese has melted.
Top with mixed greens and serve immediately.
Notes
Recommended low FODMAP serving size – 1 meatball sub per sitting.
If you want to use more sauce, skip the top of your bun and use up to 4 tbsp (1/4 cup) of marinara sauce.
Prep Time:

10

Cook Time:

10

Category:

lunch, dinner

Method:

broil

Cuisine:

american
Nutrition
Serving Size:

1 sub

Calories:

396

Sugar:

4 g

Sodium:

495 mg

Fat:

21 g

Saturated Fat:

9 g

Unsaturated Fat:

0 g

Trans Fat:

0 g

Carbohydrates:

29 g

Fiber:

3 g

Protein:

20 g

Cholesterol:

51 mg
Keywords: low FODMAP meatball sub, low FODMAP meatball sandwich
You might also like one of these comfort food recipes:
Low FODMAP Philly Cheesesteak Sandwich Packed with sautéed beef and smothered with melted cheese, this low FODMAP Philly cheesesteak sandwich will keep your taste buds and your tummy happy!
Low FODMAP Sloppy Joes Looking for a savoury dinner idea? This North American classic will have even your pickiest eaters coming back for seconds!
Low FODMAP Pulled Pork Sandwiches Looking for some FODMAP friendly comfort food? Made in the slow cooker and slathered in homemade BBQ sauce, this low FODMAP pulled pork will cure any comfort food craving!
If you like this post, don't forget to share it! Together we'll get the low FODMAP diet down to a science!