If you're just getting started on the Low FODMAP Diet, it can be easy to fall into a recipe rut. Since chicken is a standard meal at our house, I'm always looking for ways to shake it up a little. When I'm in the mood for something fancy, I like these tasty low FODMAP lemon and garlic chicken breasts.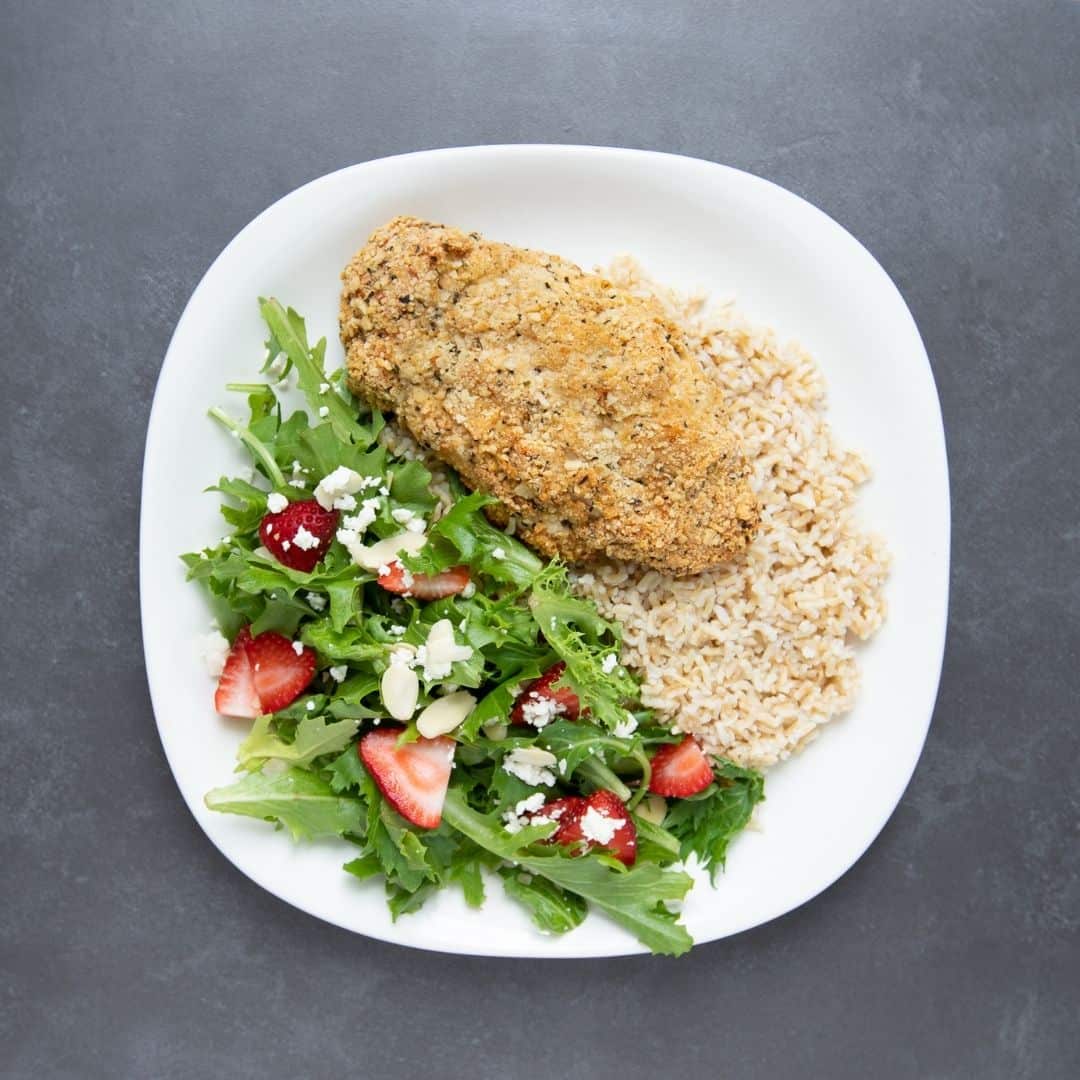 It's not hard to sell me on anything breaded. But, the thing that sets these chicken breasts apart is garlic-infused ghee. Don't worry, I'm not going to kill you. I've put instructions on making low FODMAP garlic-infused ghee below.
Think this low FODMAP lemon and garlic chicken sounds great, but you don't have time to try it now? You can PIN THIS POST for later.
Keep It FODMAP Friendly
This low FODMAP lemon and garlic chicken will be the talk of your table. Check out the notes below for tips on keeping this recipe low FODMAP.
First, if you're in the elimination phase, you'll need to use lactose-free milk and lactose-free cream cheese. If you can't find lactose-free cream cheese, Natrel posted this recipe on their website.
We also use parmesan cheese. Hard cheeses like parmesan are low FODMAP in small servings because bacteria break down the lactose during the fermentation process. According to Monash University, 1/2 a cup of parmesan is low FODMAP. We use 1/4 cup of parmesan, which works out to 1 tbsp per serving. This is within the recommended range.
According to Monash University, 1/2 a cup of parmesan is low FODMAP. Our recipe uses 1/4 cup of parmesan, which works out to 1 tbsp per serving. This is within the recommended range.
We also need gluten-free breadcrumbs. When choosing pre-packaged breadcrumbs, always check for high FODMAP ingredients. Many products use amaranth flour, inulin (chicory root), or honey, so keep your eyes open.
Remember, unless you have celiac disease, you're avoiding the FODMAP fructan, not the gluten itself.
Finally, to add the garlic flavour in this recipe, we're going to use garlic-infused ghee. In case you're new to ghee, it's a type of double-clarified butter. By cooking down the butter and removing all of the milk solids, you're left with almost 99% fat.
While you don't need to use clarified or ghee butter on the low FODMAP diet, because standard butter contains 15-16% water, it's not ideal for infusing high FODMAP flavours. Prepared ghee, on the other hand, has around 1% moisture left. So it's the best bet for creating a FODMAP-friendly infused butter.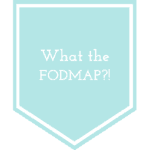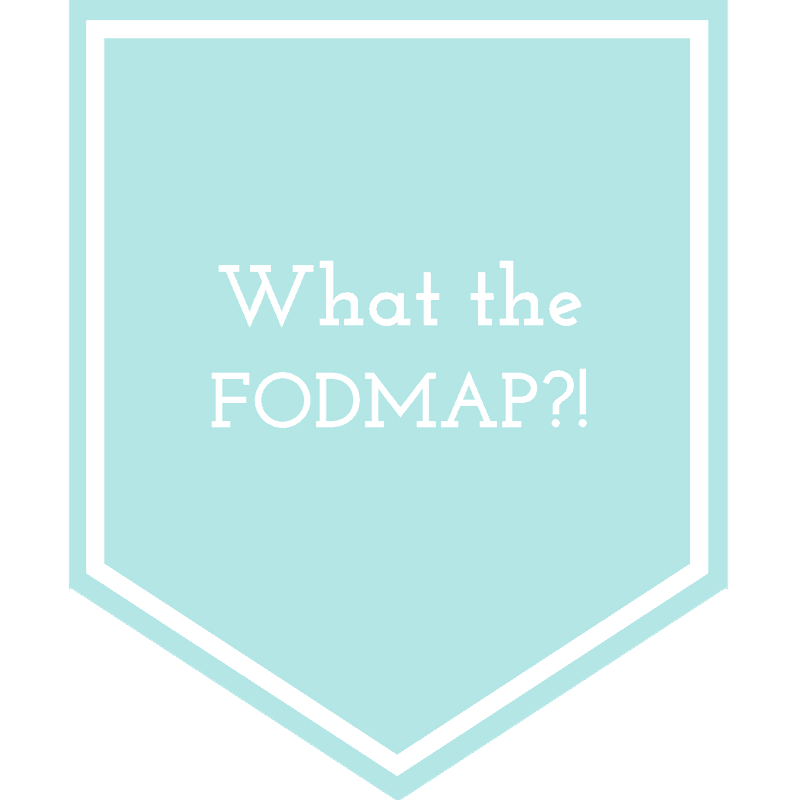 I know what you're thinking! Why are you feeding me FODMAPs? Stay with me! I'm about to get my nerd on.
Talk Nerdy To Me
The first thing you need to know is that FODMAP compounds are bonded together through dehydration synthesis. This means the molecules join together by losing water (H2O). These bonds are reversible and will break if you expose them to water.
Because FODMAPs are water-soluble, when you add high FODMAP foods like onion and garlic to your recipes, you'll unleash FODMAPs on your food; even if you pull out the pieces you can see.
But, FODMAP compounds don't break down in fats. This means you can cook high-FODMAP foods in oil or fats like clarified butter or ghee to pick up the flavour but not the FODMAPs. Just remember to remove the pieces before you add any other ingredients.
If you're still not sure about infusing high FODMAP foods, you can check out this article by Monash University.
Whose Side Are You On?
This low FODMAP lemon garlic chicken is full of flavour, so I normally stick with lighter sides. I like to pair this recipe with white rice and a fresh garden salad. You can also try my fruit & walnut salad for a pop of summer-friendly colour.
Want to try this low FODMAP lemon and garlic chicken? Don't forget to PIN THIS RECIPE for later.
Print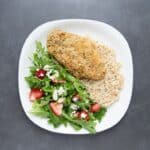 Low FODMAP Lemon and Garlic Chicken
---
Description
Looking for a delicious dinner idea? This low FODMAP lemon and garlic chicken will light up your night.
---
4

chicken breasts

4 oz

lactose-free cream cheese (cut into 1/2″ slices)

1/2 cup

lactose-free milk

1 cup

gluten-free breadcrumbs

1 tsp

dried basil

1 tsp

dried oregano

1/4 cup

parmesan cheese (grated)

1/4 tsp

paprika

1/4 cup

ghee

2

garlic cloves (lightly smashed)

1 tbsp

lemon juice
---
Instructions
Preheat oven to 350 degrees. Cut through the center of the chicken breast without cutting through. Place one slice of cream cheese in the pocket made in each breast and push the edges of the pocket together to seal. Don't put more than one ounce of cheese in the pocket or the chicken will be too rich.
Combine breadcrumbs, basil, oregano, parmesan cheese, and paprika in a small bowl. Place lactose-free milk in a separate bowl.
Dip each chicken breast in the milk and then the breadcrumb mixture. Pat down the crumbs to coat each breast.
Lightly smash the garlic to increase the surface area. Try to leave the pieces as large as possible so no small bits come loose in the ghee. Let them simmer lightly for 3-5 minutes (until you can smell the garlic), then remove the garlic pieces and mix in the lemon juice.
Place the breaded chicken in a baking dish and drizzle with the ghee mixture to cover (you may need to scoop some up from the bottom of the dish with a spoon to cover evenly). Bake until cooked through (about 45 minutes). Serve warm.
Prep Time:

15 minutes

Cook Time:

45 minutes

Category:

Main Course

Cuisine:

American
Nutrition
Serving Size:

0

Calories:

757

Sugar:

0

Sodium:

0

Fat:

0

Saturated Fat:

0

Trans Fat:

0

Carbohydrates:

0

Fiber:

0

Protein:

0

Cholesterol:

0
SaveSaveSaveSave
SaveSave
SaveSave
SaveSave
SaveSave
SaveSave
SaveSave
You might also like one of these dinner ideas:
Low FODMAP Chicken Parmesan Ready to put a FODMAP-friendly twist on a classic dinner recipe? Covered in low FODMAP breadcrumbs and baked in a savoury marinara sauce, you'll forget this chicken parmesan is low FODMAP!
Low FODMAP Salsa Chicken Fresca Looking for a simple baked chicken recipe? Packed with fresh flavours and smothered in melted mozzarella, this low FODMAP salsa chicken fresca is in it to win it!
Low FODMAP Grilled Chicken with Dijon Mustard & Dill Looking for a show-stopping dinner idea that takes almost no effort? This easy grilled chicken will be a weeknight favourite in no time!
If you like this post, don't forget to share it! Together we'll get the low FODMAP diet down to a science!