Looking for a low FODMAP treat to curb your sweet tooth? Ready in 25 minutes, these low FODMAP hazelnut cookies will hit you right in the sweet spot!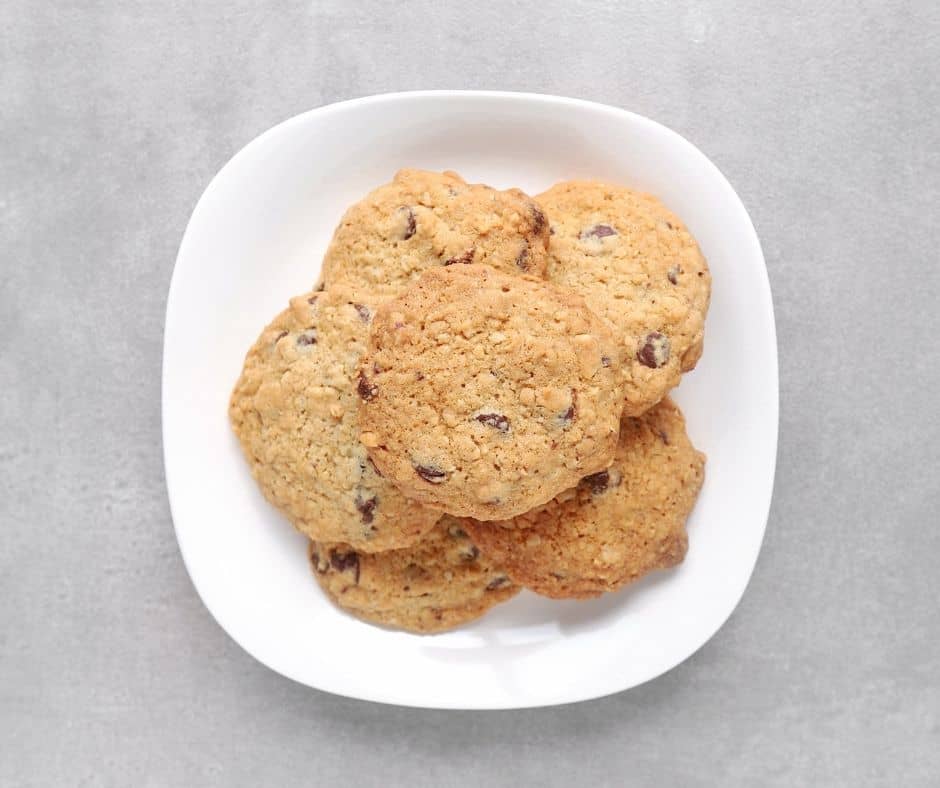 There's nothing I hate more than the dreaded afternoon slump! I feel cranky, I'm easily distracted from my tasks, and, according to my husband, it doesn't take a whole lot to trigger a melt-down! Basically, I turn into a three-year-old in a grocery store.
I don't know about you, but when I was growing up, my grocery store knew precisely how to handle me… free cookies! Once I rolled up to the bakery in my cart, and my mom let me pick a cookie from the tray, everything seemed a little more manageable, and we could get back to what we were doing.
While I'm a little older now, I definitely keep a stash of cookies in my freezer for days I need an emergency pick-me-up! And these low FODMAP hazelnut cookies are one of my new favourite recipes.
These tasty treats come together in under 30 minutes and can be frozen for up to 3 months if you store them carefully. So, whether you're looking for something you can make on the fly, or something you can stash and grab when you need it, these treats are in it to win it.
Keep It FODMAP Friendly
These low FODMAP hazelnut cookies will get you right in the sweet tooth! Check out the notes below for tips on keeping this recipe FODMAP friendly.
First up, flour. If you're in the elimination phase of the program, you'll need to use gluten-free flour. Not all gluten-free flours are low FODMAP, though. So always check your products for other high FODMAP ingredients. And remember, unless you have celiac disease, you're avoiding the FODMAP fructan, not the gluten itself.
Next up is oats. Heads up! This recipe uses quick oats, which have a different serving size than regular oats. According to the Monash app, quick oats are low FODMAP in servings of 1/4 cup (23 g) per sitting. Servings of 1/2 a cup (47 g) or more are high in the FODMAPs fructan and GOS.
Our recipe uses 1 cup of oats total, which works out to 2.3 g of oats per cookie. This is well within the recommended range.
We'll also be using butter. But, according to the Monash app, unlike other dairy products, butter is low FODMAP (because it's all fat). As long as your butter doesn't include added dairy products like "milk," "cream," or "milk solids" you're good to go.
This recipe also calls for a lot of sugar! There's some confusion around sugar on the low FODMAP diet, so let's take a second to set the record straight.
Many people wonder if sugar is low FODMAP because it contains fructose. But what we're trying to avoid during the low FODMAP program is fructose on its own (like in fruit and sweeteners like honey) or fructose in excess of glucose (where there is more fructose in food than glucose).
If your body doesn't absorb fructose properly, molecules that should be absorbed by the small intestine travel all the way to your large intestine (colon) where they can get up to all kinds of trouble!
A specific transporter usually absorbs fructose in the intestine. It's like a shuttle bus that carries fructose from the gut into the bloodstream. In some people with IBS, the fructose shuttlebus has a flat tire. So there's no way for the molecules to exit the digestive system other than hitching a ride with your poop.
But when glucose and fructose appear in equal amounts (like in table sugar, brown sugar, icing sugar, etc.), the fructose can hitch a ride into the bloodstream on the glucose shuttle bus (thanks, friends!).
When fructose molecules have access to the glucose shuttle bus, they aren't left floating around your digestive system wreaking havoc. And that is the story of why sugar is low FODMAP.
Next up, vanilla extract. According to the Monash app, pure vanilla extract only has trace amounts of FODMAPs. So you don't have to worry about it contributing to your FODMAP load.
We'll also be using chocolate chips. According to Monash University, dark chocolate is low FODMAP in servings of 5 squares (30 g) per sitting. Servings of 14 squares (80 g) or more are high in lactose, while servings of 20 squares (125) or more are high in the FODMAPs lactose and fructan.
We'll be using 3/4 of a cup of chocolate chips, which works out to 4.5 g of chocolate chips per cookie. This is well within the recommended range.
Last but not least, hazelnuts. According to the Monash app, hazelnuts are low FODMAP in servings of 10 nuts (15 g) per sitting. Servings of 20 nuts (30 g) or more are high in the FODMAP GOS.
Our recipe uses 1/2 a cup of hazelnuts, which works out to 1.9 g per cookie. This is well within the recommended range.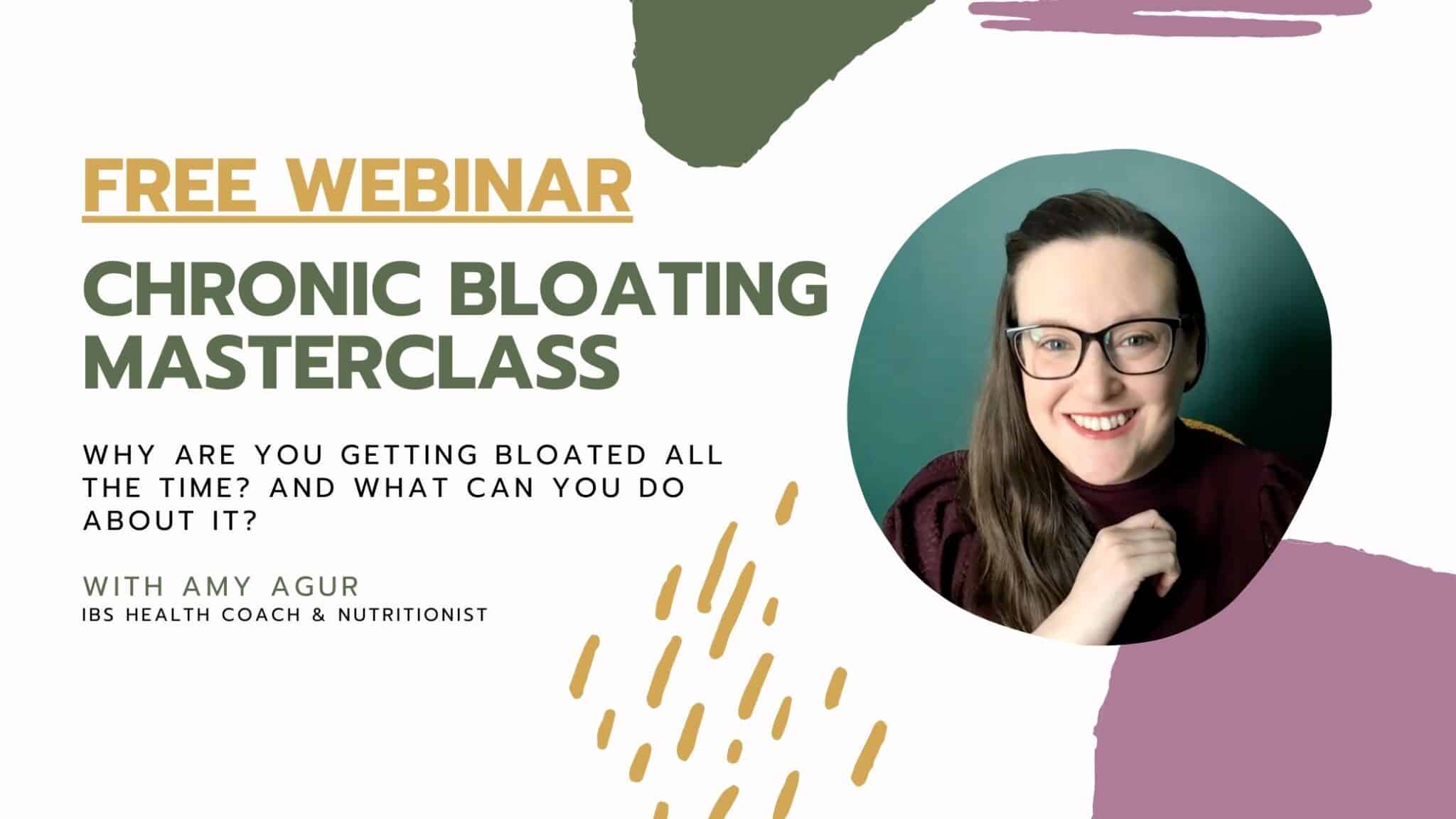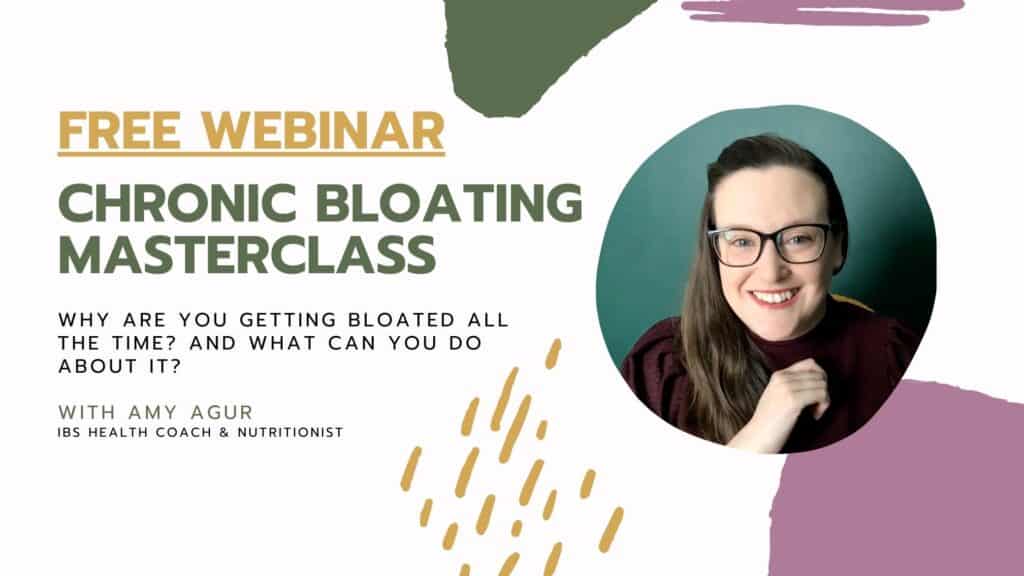 FODMAP Math
You are what you eat! Check out how many FODMAPs
Fructose = 0
Lactose = 0.5
Fructans = 0.8
GOS = 0.7
Polyols = 0
Want to try these low FODMAP hazelnut cookies? Don't forget to PIN THIS RECIPE for later!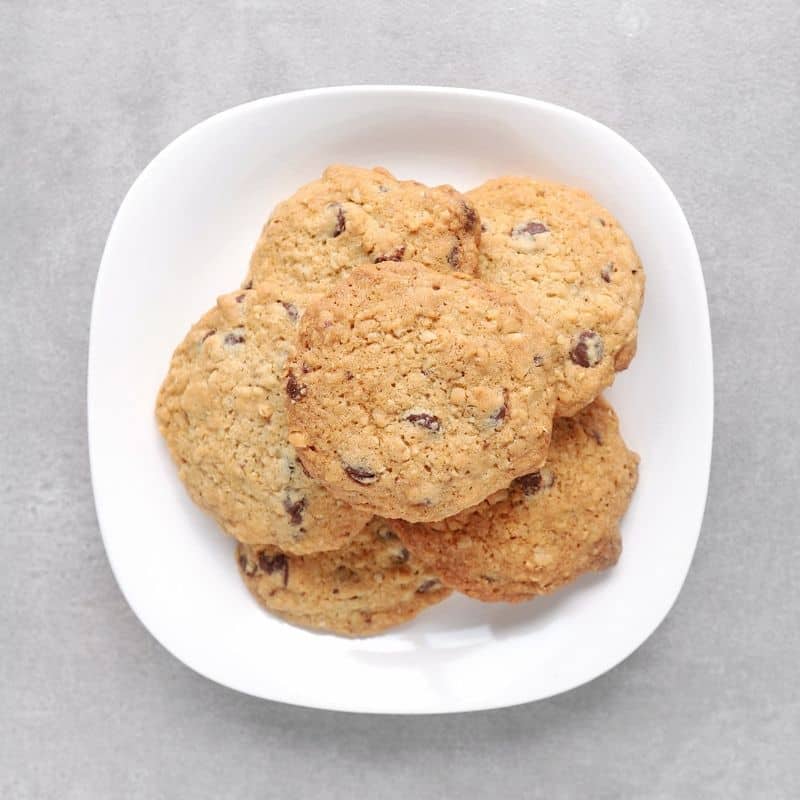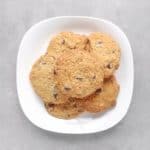 Low FODMAP Hazelnut Cookies
Looking for a sweet treat you can take on-the-go? Check out these quick and easy hazelnut cookies!
What You Need
1.33

cups

low FODMAP all-purpose flour

1

cup

quick-cooking rolled oats

1

tsp

baking powder

1

tsp

baking soda

1/4

tsp

salt

1

cup

unsalted butter

(room temperature)

0.5

cup

light brown sugar

0.25

cup

granulated sugar

1

egg

1

tsp

pure vanilla extract

3/4

cup

bittersweet chocolate chips

0.5

cup

hazelnuts

(coarsely chopped)
What You Do
Preheat your oven to 350 degrees and line 2 cookie sheets with parchment paper.

Whisk together your flour, oats, baking powder, baking soda, and salt. Set aside.

Add your butter and both types of sugar to a large bowl and mix on medium speed until the butter is light and fluffy (about 3-5 minutes). Add the eggs and vanilla and continue to mix until they're thoroughly blended.

Gradually add in the flour mixture (make sure each addition has been mixed in before adding more). Then add the hazelnuts and chocolate chips and fold them in with a wooden spoon.

Measuring the dough with a tablespoon, drop the cookies onto the baking sheet 2" apart and bake for 15-18 minutes or until the edges have set. Cool the cookies for 5 minutes on the baking sheet, then transfer them to a wire rack to finish cooling.
You might also like one of these:
Low FODMAP Haystack Cookies Have a chocolate craving that just won't quit? Packed full of chocolate, oats, and coconut, these mouth-watering cookies will make your tummy and your taste buds happy.
Low FODMAP Cinnamon Buns Need a little magic in your life? These light and fluffy cinnamon buns are so delicious, no one will know they're low FODMAP!
Low FODMAP Sweet Crepes Looking for an epic breakfast recipe? These low FODMAP sweet crepes are brushed with chocolate ganache and stuffed with fresh strawberries! Talk about a mouthwatering way to start your day!
If you like this post, don't forget to share it! Together we'll get the low FODMAP diet down to a science!