Looking for a classic breakfast idea? You're going to love these low FODMAP buttermilk pancakes! With a light, fluffy texture and a sweet, clean flavour, these pancakes will take your brunch to the next level!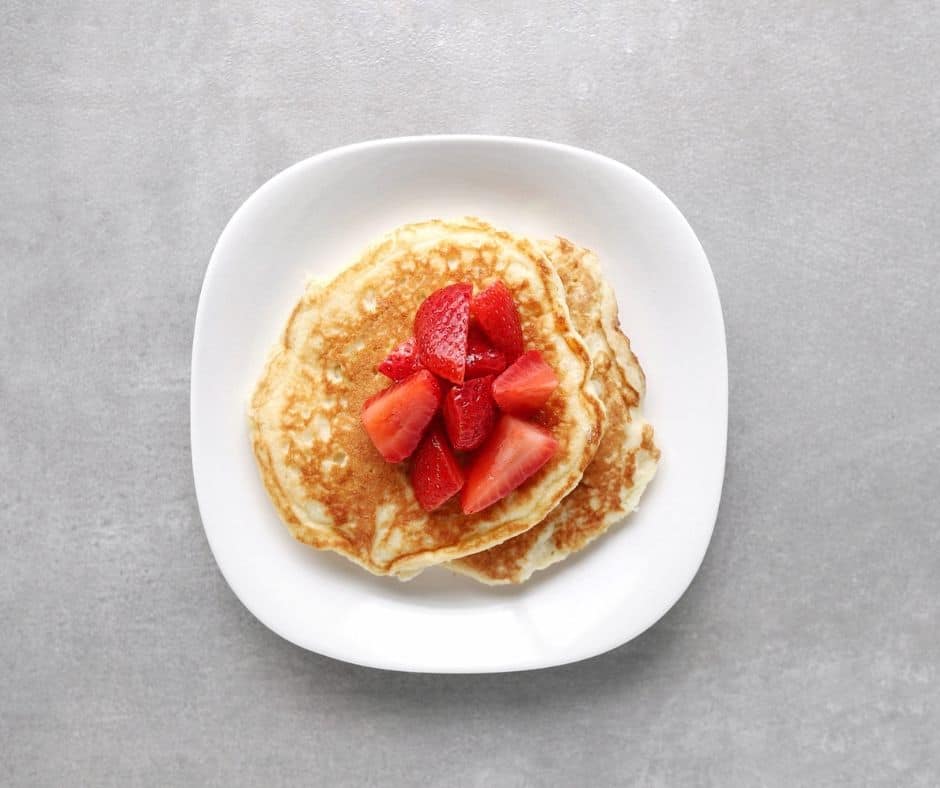 My husband and I are both huge pancake fans. But we tend to make them sparingly because they always bring on the same argument.
As a Canadian, I am a die-hard maple syrup fan. If those pancakes can't swim, you're not doing it right. My husband, on the other hand, likes his pancakes with a swish of jam. JAM, people!
While I know jam and pancakes probably taste delicious, I cannot bring myself to deviate from pancake tradition. Are you a maple syrup or a jam fan? Let me know in the comments below – jam-loving friends, please tell me why this is a thing!
Keep It FODMAP Friendly
These low FODMAP buttermilk pancakes will make any day feel like the weekend! Check out the notes below for tips on keeping this recipe FODMAP friendly.
First up, buttermilk! If you're in the elimination phase of the low FODMAP program, you'll need to use lactose-free buttermilk. If you can't find lactose-free buttermilk at your local store, don't panic! You can make your own by replacing one tbsp of lactose-free milk with lemon juice or vinegar and letting it sit at room temperature for 10 minutes.
According to the Monash app, lemon juice is low FODMAP in servings of 1/2 a cup (125 g) per sitting. Servings of 3/4 cups (187 g) or more are high in the FODMAP fructan.
We're only using 1 tbsp, which works out to 1.9 g per serving. This is well within the recommended range.
Next up, butter! While technically butter is a dairy product, according to Monash University, it doesn't have any FODMAPs (because it's all fat). So you don't need to use a lactose-free product. Just remember to check the label for added milk ingredients like "milk" or "milk solids," and you're good to go.
Last but not least, flour. If you're in the elimination phase of the program, you'll need to use gluten-free flour. Not all gluten-free flours are low FODMAP, so you'll still need to check the label for high FODMAP ingredients.
Remember, you're avoiding the FODMAP fructan, not the gluten itself!
FODMAP Math
Wondering how your pancakes stack up? Check out the notes below to find out how many servings of each FODMAP group are in one of these buttermilk pancakes. Want more information on FODMAP stacking? Check out my full article here.
Fructose = 0
Lactose = 0
Fructan = 0.1
GOS = 0
Polyols = 0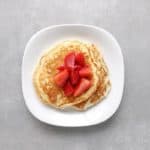 Low FODMAP Buttermilk Pancakes
Looking for a classic breakfast idea? Try these light and fluffy buttermilk pancakes!
What You Need
1.25

cups

lactose-free milk

1

tbsp

lemon juice

1.5

cups

low FODMAP all-purpose flour

3

tbsp

sugar

1

tsp

baking powder

0.5

tsp

baking soda

1

tsp

salt

3

tbsp

unsalted butter

(melted)

2

lg

eggs

0.5

tsp

vanilla
What You Do
Place milk in a small bowl. Remove 1 tbsp of milk and add 1 tbsp of lemon juice. Allow the mixture to sit for 10 minutes at room temperature.

Add flour, sugar, baking powder, baking soda, and salt in a large bowl. Whisk until thoroughly combined.

In a separate bowl, combine milk mixture, butter, eggs, and vanilla. Add the liquid ingredients to the dry ingredients and quickly mix them together (the batter may be lumpy, as long as everything is moist, they'll turn out fine).

Heat a frying pan or griddle and melt a small pat of butter in the pan. Use 1/4 cup of batter for each pancake. They're ready to flip when the bubbles on the surface of the pancake start to pop and the underside of the pancake is browned (about 2-3 minutes). Cook the second side for 1-2 minutes, then serve immediately.
You might also like one of these:
Low FODMAP Sourdough Waffles Looking for a fun FODMAP-friendly twist on a breakfast classic? Take your brunch to the next level with these easy make-ahead low FODMAP sourdough waffles!
Low FODMAP Lemon Blueberry Muffins Looking for a tasty breakfast you can make in advance? Packed with fresh flavours, these low FODMAP lemon blueberry muffins are the ultimate breakfast on-the-go!
Low FODMAP Ham and Havarti Crepes Want to feel fancy without all the effort? Unleash your inner foodie with these simple ham and havarti crepes!
If you like this post, don't forget to share it! Together we'll get the low FODMAP diet down to a science!