Looking for a FODMAP-friendly breakfast to start your day that's dressed to impress? Get your brunch on with these savoury low FODMAP breakfast sausage sandwiches!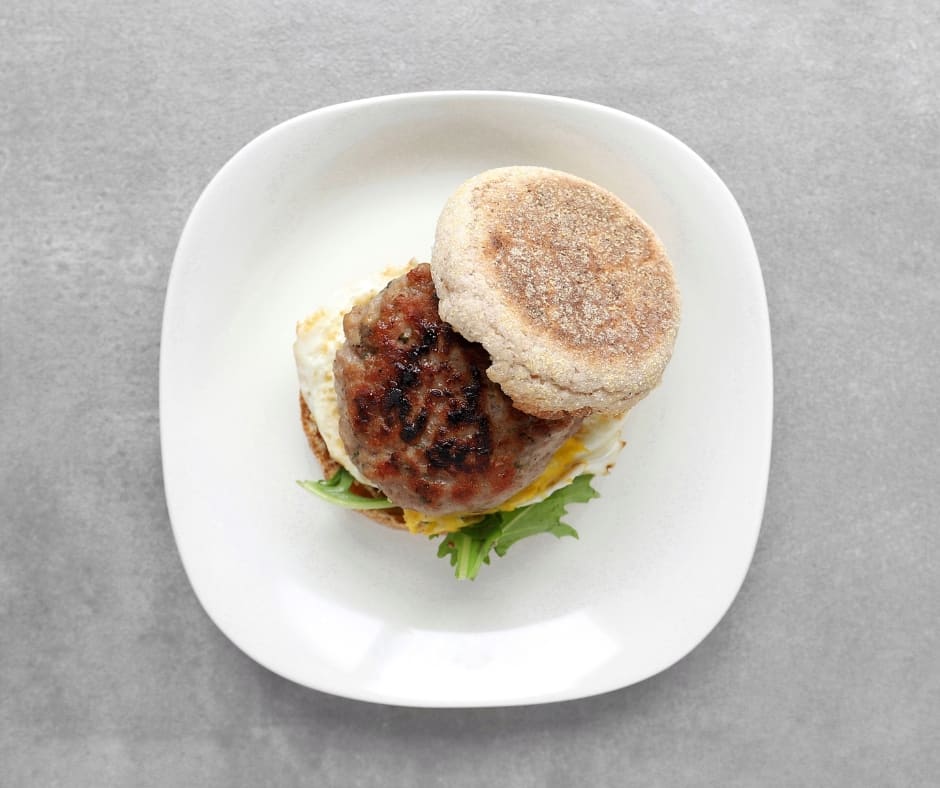 Before starting the low FODMAP diet, I think I was made of at least 95% breakfast sandwich. Since it's almost impossible to find a breakfast sandwich that isn't sporting a healthy dose of onion or garlic, I've had a sad, breakfast sandwich-less life for a while now.
But all that is about to change, friend! These savoury little breakfast sausage sandwiches are about to take your low FODMAP recipes and brunching skills to a whole new level! Quick and easy to prepare, you'll wonder why you ever settled for those mass-produced little patties in the first place!
Think these low FODMAP breakfast sausage sandwiches sound great, but you don't have time to try them now? Don't worry! You can PIN THIS POST for later to include them in your meal planning!
Keep It FODMAP Friendly
Looking for epic low FODMAP breakfast ideas? These breakfast sausage sandwiches are in it to win it! Check out the notes below for tips on keeping this recipe FODMAP friendly.
First up, pork. Since pork is a protein, it doesn't have any FODMAPs. That means you can eat as much as you'd like without adding to your FODMAP load. The same goes for eggs. I like to prepare my eggs where the egg whites become solid and the yolk is still runny. However, scrambled eggs should work too!
Next up, maple syrup. According to the Monash app, pure maple syrup is low FODMAP in servings of 2 tbsp (50 g) per sitting. Monash doesn't list a maximum serving size. You can read more about these quirky foods here.
We'll be using 2 tsp of maple syrup total. This is well within Monash University's recommended range.
We'll also be using Dijon mustard. According to Monash University, Dijon mustard is low FODMAP in servings of 1 tbsp (23 g) per sitting. Servings of 3/4 cups (230 g) or more are high in fructans and GOS and should be avoided. We'll be using 4 tsp, which works out to 1/3 of a serving per breakfast sandwich. This is well within Monash University's recommended range.
Next up, English muffins. If you're in the elimination phase, you'll need to use gluten-free English muffins. Remember to check the label for other high FODMAP ingredients, as many gluten-free products use high FODMAP fruit juices and purees to improve their taste; as well as high FODMAP flours and emulsifiers like amaranth flour, coconut flour, and inulin to improve their texture.
Remember, unless you have celiac disease, you're avoiding the FODMAP fructan, not gluten itself.
Last but not least, arugula. According to the Monash app, arugula only has trace amounts of FODMAPs. This means you can add as much arugula as you'd like without adding to your FODMAP load.
Show Your Work (FODMAP Math)
Fructose = 0
Lactose = 0
Fructan = 0.33
GOS = 0.33
Polyols = 0
Pick Your Sidekick
Think your low FODMAP breakfast sausage sandwich looks a little lonely? These low FODMAP paprika potatoes or rosemary potatoes will bring a nice, homey feeling to your brunch!
If you're looking for something a little lighter, you can't go wrong with a low FODMAP serving of fresh fruit.
Want to try this low FODMAP breakfast sausage sandwich? Don't forget to PIN THIS RECIPE for later! This recipe could easily become one of your favorite FODMAP foods!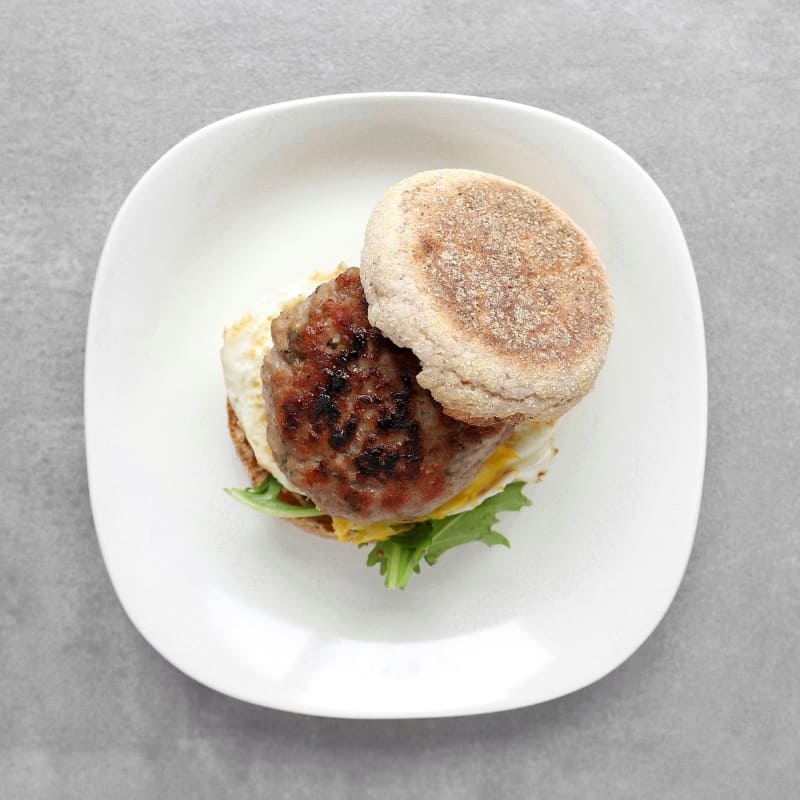 Low FODMAP Breakfast Sausage Sandwich
Looking for the ultimate breakfast idea? Try these savoury low FODMAP breakfast sausage sandwiches!
What You Need
450

g

ground pork

2

tsp

maple syrup

1

tsp

fresh thyme

(finely chopped)

1

tsp

salt

0.5

tsp

pepper

3

tsp

canola oil

(divided)

4

eggs

4

tsp

low FODMAP Dijon mustard

4

low FODMAP English muffins

(toasted)

2

cups

baby arugula
What You Do
Combine pork, maple syrup, thyme, salt, and pepper in a large bowl. Divide the pork mixture into 4 sections and press them into disks about half an inch thick. Let them rest for 5 minutes to help them hold their shape while cooking.

Warm up 1 tsp of oil in a large frying pan over medium heat. Cook your sausages for about 4 minutes, flipping at the half-way mark. The sausages are cooked when they're no longer pink inside and they've reached an internal temperature of 160 degrees.

Wipe the pan with a paper towel and warm up the remaining oil. Crack your eggs into the pan and cook until the egg whites are set, but the yolk is still runny (about 3 minutes).

Spread the Dijon mustard on the bottom half of each English muffin. Top with the sausage patties, egg, arugula, and the remaining muffin tops. Serve immediately.
You might also like one of these:
Low FODMAP Smashed Avocado Toast Unleash your inner foodie with this quick and easy low FODMAP smashed avocado toast! Whether you're serving up brunch or enjoying a meal for one, this is the breakfast of champions.
Low FODMAP Breakfast Bars Make your morning a little easier with these low FODMAP breakfast bars! Packed with protein and a little magic, these breakfast bars will help you power through your busy day!
Low FODMAP Bacon and Cheddar Scuffins Have a stress-free morning with these savoury bacon and cheddar scuffins! These tasty treats can be made in advance and stored in the fridge for a stress-free breakfast all week long.
If you like this post of low FODMAP dessert recipes, don't forget to share it! Follow me on Instagram @fodmapformula for more FODMAP-friendly tips and recipes! Together we'll get the low FODMAP diet down to a science!