Have you ever wondered why foods like sourdough bread are low FODMAP, even though they're made with high FODMAP ingredients? In many cases, the answer is fermentation. So, are fermented foods low FODMAP? In this article, we'll talk about understanding fermentation and the low FODMAP diet. Grab your spectacles, friend! We're about to get our nerd on!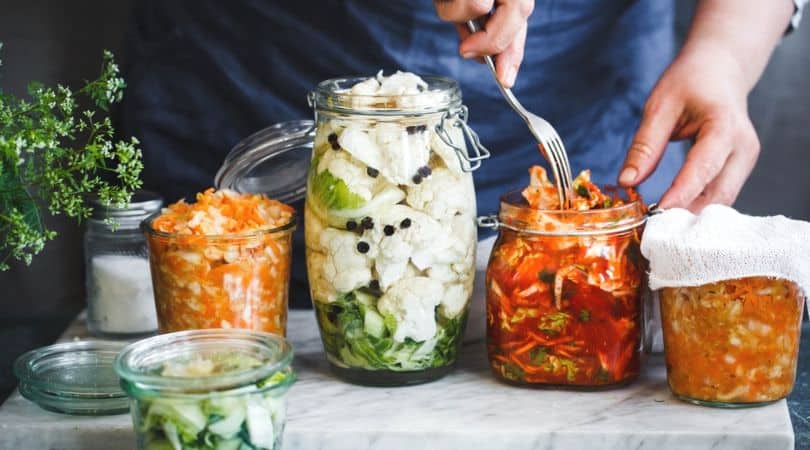 Understanding Fermentation and the low FODMAP Diet
The first thing you need to know is that fermentation means using microorganisms like bacteria or yeast to turn carbohydrates into alcohol or lactic acid. This is typically done in an anaerobic environment (a space without oxygen).
There are two forms of fermentation you'll likely run into your daily life. The first type is alcoholic fermentation. During alcoholic fermentation, yeast break down carbohydrates (breakdown of sugar) into carbon dioxide and ethanol. This type of fermentation is used to make wine, beer, spirits, kombucha, and vinegar, and lots of other tasty things.
The second type is lactic acid fermentation. During lactic acid fermentation, lactobacillus bacteria break down carbohydrates into lactic acid. This type of fermentation is used to make cheese, yogurt, kefir (fermented milk), kimchi, pickles, and sauerkraut (fermented cabbage), etc.
Heads up, these types of fermentation can happen on their own or together. Sourdough bread, for example, uses both types of fermentation.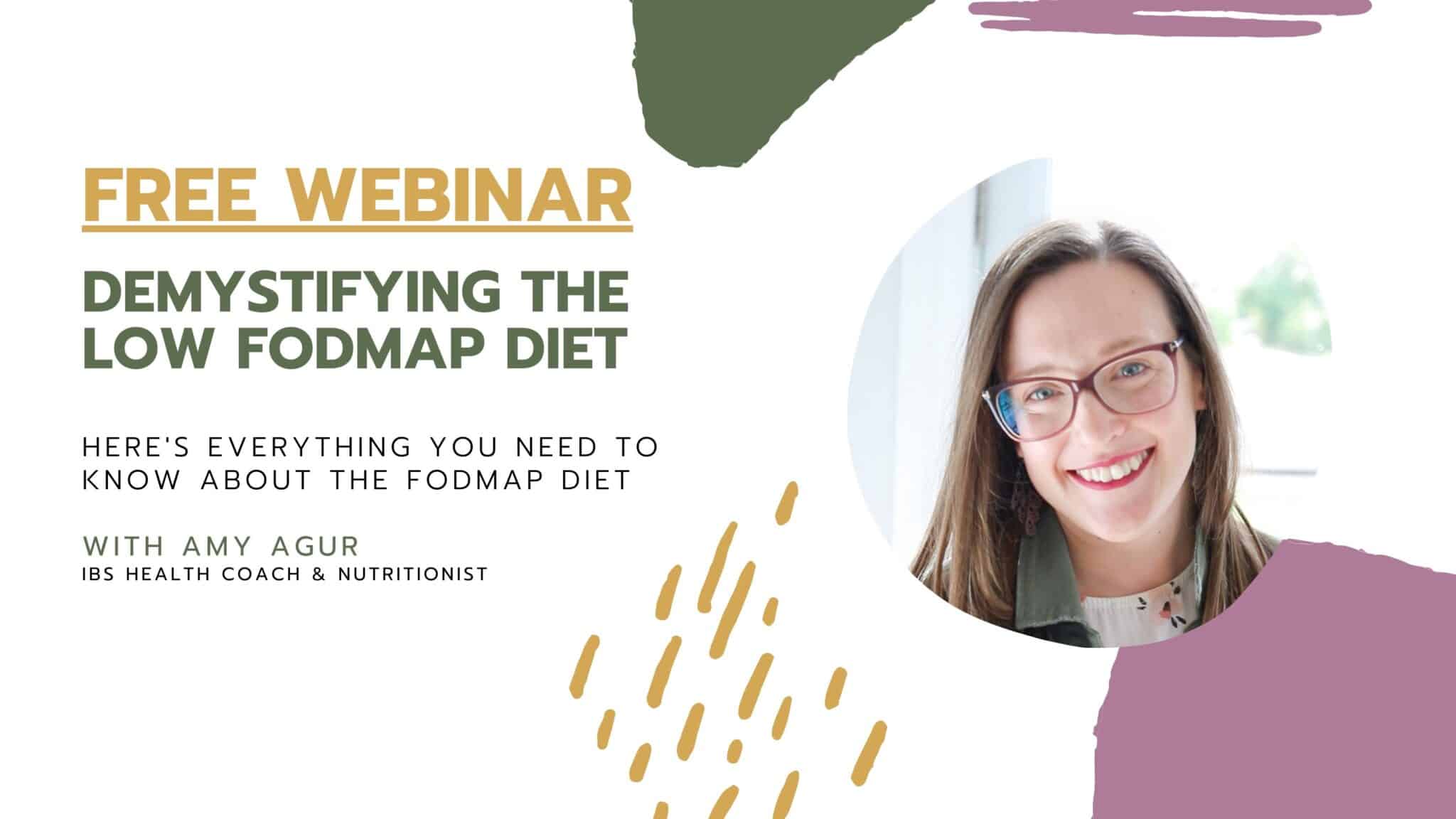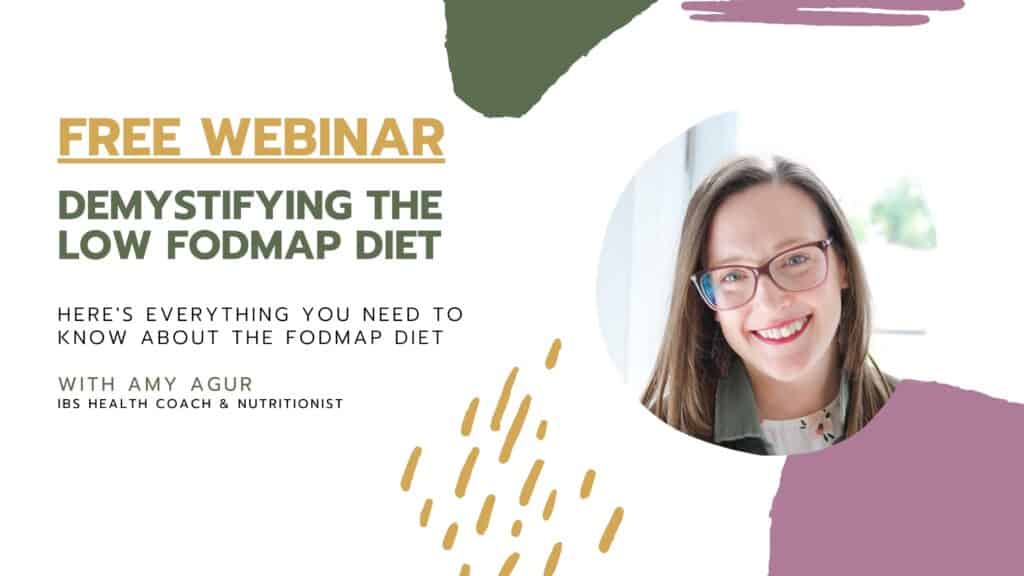 Will fermented foods help your IBS?
The short answer is, it depends! Before we dive into this question, let's talk about some of the health benefits of fermented foods.
Understanding Fermentation and the low FODMAP Diet: The good news
You might want to eat fermented foods just because they're yummy! But fermented foods also have many health benefits. In fact, fermented foods have been used throughout history for a variety of reasons. Here are some of my favourites:
Fermenting can be used to preserve foods;
It can help break down hard to digest foods (like soybeans), so we can absorb their nutrients and experience improved digestion;
Certain fermented foods can add helpful probiotics to our diet; and
Fermentation can lower the FODMAP content of some foods so FODMAPers can eat them in small portions without symptoms.
Side Note: Many people believe that eating fermented foods will add "beneficial bacteria" to their guts. While some fermented foods do contain good bacteria (probiotics), many fermented foods do not.
Here's what you need to know. First of all, to be considered a probiotic, the bugs you ingest need to have a positive impact on your gut (not just your tastebuds). Since the purpose of the lactic acid bacteria in fermented foods is to ferment, they aren't necessarily the kind that will help your body.
Second, some bugs can be helpful, but they need to reach your gut! If your food is cooked, sanitized, or overly processed, it's likely any helpful bugs will have perished by the time the product reaches you.
If you're using fermented foods to intentionally add probiotics to your diet, make sure to check the label to see how many "live cultures" are in there. This will let you know how many live bugs should be in the product by the time you ingest it.
Understanding Fermentation and the low FODMAP Diet: The bad news
So, if fermentation breaks down the carbohydrates in foods, fermented foods should be lower in FODMAPs than the original food, right? Not quite!
Researchers at Monash University have looked into fermented foods a few times to see how, exactly, fermentation impacted the FODMAP content of foods. Some of their test results were a little unexpected. For example, foods like onion, high FODMAP vegetables, and milk had the same number of FODMAPs, whether they're fermented or not. While foods like red and common cabbage switched from low to high FODMAP when they were fermented (wait, what?!).
Don't panic, though. Some foods are lower in FODMAPs when fermented. We'll take a look at some of these next! Just remember to check your Monash app for the recommended serving size.
Low FODMAP Sourdough
If you look at the Monash app, you'll see that two slices of wheat sourdough bread are low FODMAP. To be clear, this means traditional sourdough, not the stuff you pull out of the bread aisle at your local grocery store (unless you have a cool artisanal bakery at your local store, in which case you need to take me there). So what's the difference? Fermentation, friend!
To make traditional sourdough bread, you mix wheat and water and let it sit out for several days. During this time, "wild" yeast and bacteria will start to colonize in your mix (called a "starter"). These come from the wheat itself, your kitchen, and you. As you feed the starter, the colony will grow into a big frothy mess of bugs (um, delicious?).
When your starter is ready, you add it to your dough. This is like winning the lottery for your starter bugs. While your dough is rising, they're busy munching away on the carbohydrates in the dough, breaking it down into acids, carbon dioxide, and ethanol. All this gas causes the dough to rise.
During this all-you-can-eat bug buffet, your starter bugs will also create two enzymes called fructanase and invertase. These enzymes help separate individual fructose molecules from their fructan chains. The starter bugs then eat the fructose molecules (thanks, friends!).
Heads up! Your starter bugs have to eat a lot of FODMAPs to transform sourdough into a low FODMAP bread. This can take a while. So, Monash recommends letting low FODMAP sourdough prove (rise) for at 12-72 hours. Since the traditional sourdough method takes a lot of time, many commercial companies cheat and use sour flavouring (gross) and non-rising yeast to get their buns out the door.
If your grocery store makes its bread, ask the bakery how they make their sourdough. If they're cheaters, don't panic! Many small bakeries still use the traditional method and are happy to answer your questions.
Low FODMAP Dairy
Monash University has made it very clear that the low FODMAP program is not a dairy-free program. So, how do you include dairy in a lactose-free diet?
You have two options here. First, you can often purchase lactose-free products like milk, yogurt, and ice cream from larger grocery chains. These products have had the enzyme lactase added to them, so the lactose has been broken down for you. In North America, a product must be 100% lactose-free to carry a lactose-free label.
But, there's another way to sneak some dairy into your low FODMAP Diet. Are you going to make me say it? Alright, I give – it's fermentation.
For the record, the average lactose-intolerant person can safely ingest 12-15g of lactose per day. Most people with lactose intolerance can ingest a little more when the servings are spread out over the day and combined with other foods. This is one of the reasons small servings of some dairy products are listed as low FODMAP in the Monash app.
Fun Fact: Some dairy products, including hard cheeses like parmesan, cheddar, mozzarella, and feta and some soft cheeses like brie and camembert, have almost no lactose in a standard serving.
There are two reasons for this. First, some lactose is lost when the liquid whey is removed from the cheese curd during processing. Then, the remaining lactose is broken down and fermented by lactobacillus bacteria. The result is magical low FODMAP cheese.
Yogurts are also fermented, but not enough lactose is broken down during manufacturing to make them low FODMAP. Plus, since most manufacturers have their own process, the lactose content can vary between brands. If you eat yogurt as part of your daily diet, a dietitian can help you find a brand that fits the low FODMAP program. Or you can try a lactose-free brand (as long as it doesn't have any added FODMAPs).
Low FODMAP Soy
Soy can be a little confusing on the low FODMAP diet because some sources are low FODMAP while others are high FODMAP.
There are lots of places you may encounter soy, so let's start by getting our terms straight. First up, soy milk. In the US and Canada, most soy milk is made from grinding up mature soybeans in water. Since all of the FODMAPs are still hanging around, this type of soy milk is high FODMAP.
Heads up, if you live in Australia or New Zeeland, some brands of soy milk are made with soy protein only. This type of soy milk has a low FODMAP serving listed in the Monash app. Make sure you double-check the label before you buy, though, as both types of soy milk are generally available side by side.
Another common soy product is tofu. Regular tofu is made by curdling soy milk and pressing out any water. Since FODMAP carbohydrate chains break down in water, some of the FODMAPs found in the soy milk will break apart and be drained away during processing. This lowers the FODMAP content enough that Monash has listed a low FODMAP serving size in their app.
Side note: Silken tofu is similar to regular tofu, but the water isn't pressed out during processing. That means all of the FODMAPs released into the water are still hanging around. Because of this, silken tofu is still high FODMAP and should be avoided during the elimination phase of the low FODMAP program.
You may also run into several fermented soy products like tempeh, miso paste, and soy sauce. In these cases, soybeans are cooked and fermented. During the fermentation process, bacteria break down enough of the fructan and GOS molecules to lower the FODMAP content of the soybeans. Check out your Monash app for low FODMAP serving sizes of these products.
Does fermentation always lower the FODMAP content of foods?
While Monash has found that fermentation can lower the FODMAP content of foods, research has shown that sometimes it has no impact at all. And, sometimes it can increase the FODMAP content! Check out the list below to see how fermentation impacts common foods according to the Monash University lab.
Lowered FODMAP content
soybeans – tempeh
spelt wheat – sourdough
goat's milk – yogurt
cow's milk – cheese
No change in FODMAP content
cow's milk – yogurt
cow's milk – kefir
mixed vegetables – pickled
pickled onions
pickled cucumbers – gherkins
Increase in FODMAP content
common cabbage – sauerkraut
red cabbage – sauerkraut rotkohl
Final thoughts on understanding fermentation and the low FODMAP diet
That was a lot to take in, so let's recap! Fermentation is the process of using bacteria and yeast to break foods down into alcohol or lactic acid. While some fermented foods are lower in FODMAPs than their non-fermented friends, not all fermented foods are safe for the elimination phase of the low FODMAP program. So make sure to consult your Monash app before you dig into your favourite fermented foods!
If you like this post about understanding fermentation and the low FODMAP diet, don't forget to share it! Follow me on Instagram @fodmapformula for more tips and recipes that are FODMAP friendly! Together we'll get the low FODMAP diet down to a science!
You might also like one of these articles: