Want to add a little comfort food to your low FODMAP diet? These easy low FODMAP sloppy joes are the savoury dinner idea you've been waiting for!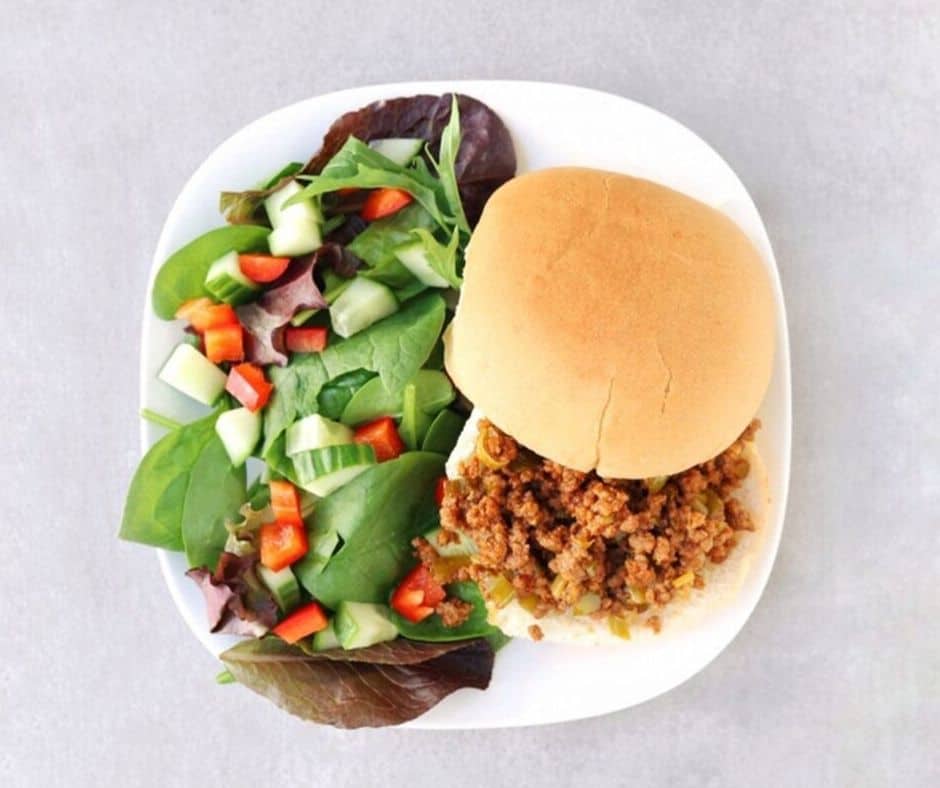 ---
Heads up, this post uses affiliate links. If you make a purchase using one of the links I've provided, I'll receive a small sum of money. You can read more about my affiliations here.
Do you ever get a hankering for something you ate as a kid? From confetti cakes with dinosaur sprinkles to shepherd's pie and tuna melts, there are specific recipes that are ingrained in my brain as the best things that have happened to my taste buds!
I don't know about you, but growing up, sloppy joes were always a reason to celebrate at our house. All that savoury beef hanging out in that tangy sauce was a dinner to die for.
So if you're a fan of this classic North American concoction, prepare to be excited, friend! With a few low FODMAP twists, sloppy joes are back on the menu!
Keep it FODMAP friendly
Looking for a dinner idea that will rock your socks? Your whole family will love these easy low FODMAP sloppy joes! Check out the notes below for tips on keeping this recipe low FODMAP.
First up, ground beef. Since beef is a protein, it doesn't have any FODMAPs. That means you can eat as much beef as you'd like without adding to your FODMAP load.
Next up, leeks. According to Monash University, the green part of a leek is low FODMAP in servings of 2/3 of a cup (54 g) per sitting. Servings of 1 cup (75 g) are high in the polyol mannitol.
We'll be using 1/2 a cup of leeks total, which works out to 6.25 g per serving. This is well below Monash's recommended range.
This recipe also calls for green peppers. Monash has determined that green peppers are low FODMAP in servings of 1/2 a cup (52 g) per sitting. Servings of 1/4 of a medium pepper (75 g) are high in the polyol sorbitol.
We use 2/3 of a cup of chopped green peppers between 6 servings. This works out to 22.5 g of green peppers per serving, which is well within the recommended range.
Our recipe also calls for ketchup and tomato paste. Fody Foods Co. is currently the only ketchup tested by Monash University. According to the Monash app, Fody's ketchup is low FODMAP in servings of 1 tbsp (17 g) per sitting. Servings of 3.5 tbsp (66 g) or more are high in the FODMAP fructan.
We'll be using 1/4 cup of ketchup, which works out to 11.3 g per sitting. This is within Monash's recommended range.
Tomato paste, on the other hand, is low FODMAP in servings of 2 tbsp (28 g) per sitting. Though Monash hasn't listed a maximum serving size for this food. You can read more about these quirky foods on the FODMAP Monash blog.
We'll be using 1 tbsp of tomato paste total. This works out to 2.3 g of tomato paste per serving, which is well within the recommended range.
Next up, garlic-infused oil. In case you didn't know, FODMAPs chains will break apart and leave their host foods when they're exposed to water. But this doesn't happen when high FODMAP foods are exposed to fats.
This means we can infuse the flavour of high FODMAP foods like garlic and onion into oil or butter and use them without unleashing a bunch of FODMAPs on our meal. Check out my full article on low FODMAP infused fats to learn more about how this process works and how to choose low FODMAP infused products.
Last but not least, hamburger buns. If you're in the elimination phase of the low FODMAP program, you'll need to use a gluten-free bun. Make sure to check the ingredient list for other high-FODMAP ingredients. As many gluten-free products use high FODMAP ingredients like apple or pear juice, honey, and inulin/chicory root to make their products taste and feel like real bread.
Remember, unless you have celiac disease, you're avoiding the FODMAP fructan in wheat, not gluten itself.
FODMAP math
Worried these low FODMAP sloppy joes will stack up on you? Check out the notes below to see how many servings of each FODMAP group are in 1/2 a cup of this recipe.
Fructose = 1
Lactose = 0
Fructan = 1.5
GOS = 0.08
Polyol = 0.6 (Sorbitol = 0.4, Mannitol = 0.2)
Want to try these easy low FODMAP sloppy joes? Don't forget to PIN THIS RECIPE for later!
Print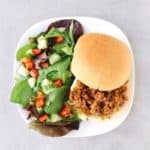 Low FODMAP Sloppy Joes
---
Author:

Amy Agur

Prep Time:

10

Cook Time:

45

Total Time:

55 minutes

Yield:

4

servings

1

x
Description
These low FODMAP sloppy joes are the comfort food you've been waitng for!
---
Scale
Ingredients
1 tbsp

garlic-infused olive oil

1

lb lean ground beef

1/2 cup

leeks – green part only, diced

2/3 cups

green pepper, chopped

1/4 cup

low FODMAP ketchup

1 tbsp

tomato paste

1/3 cup

water

1 tbsp

brown sugar

1 tsp

yellow mustard

1/2 tsp

chili powder

1/2 tsp

Worchestershire sauce

1/4 tsp

red pepper flakes

1/4 tsp

salt

1/4 tsp

freshly ground pepper

6

low FODMAP hamburger buns
---
Instructions
Heat your olive oil in a large frying pan over medium heat. Add the ground beef and leeks and cook until browned. Drain any liquids and set aside.
Place green peppers in the same pan and cook until tender (about 3-4 minutes). Return the beef to the pan and add the ketchup, tomato paste, water, brown sugar, yellow mustard, chili powder, Worchestershire sauce, and red pepper flakes.
Reduce the heat to medium-low and simmer for 30 minutes. Once the sauce has thickened, season it with salt and pepper to taste, then divide the mixture between 6 hamburger buns and serve immediately.
Notes
Recommended low FODMAP serving – 1/2 a cup of sauce per sitting
Category:

Lunch, Dinner

Cuisine:

American
Nutrition
Serving Size:

1/2 cup

Calories:

218

Sugar:

8

Sodium:

92

Fat:

5

Saturated Fat:

2

Unsaturated Fat:

2

Trans Fat:

0

Carbohydrates:

23

Fiber:

1

Protein:

17

Cholesterol:

40
You might also like one of these comfort food recipes:
Low FODMAP no bean chilli Chilli lovers rejoice! Whether you're looking for some FODMAP-friendly comfort food or something epic to serve on game day, this no bean chili will keep your taste buds and your tummy happy!
Low FODMAP breaded pork chops Looking for some quick and easy comfort food? These breaded pork chops will hit the spot!
Fully loaded low FODMAP nachos Whether you're getting looking for a fun family recipe or settling in for the big game, these fully loaded nachos will be the talk of your table!
If you like this post, don't forget to share it! Together we'll get the low FODMAP diet down to a science!