Looking for a hearty dinner idea you can make in advance? This easy low FODMAP beef stew has a rich, savoury flavour you'll crave all winter long!
---
Heads up, this post uses affiliate links. If you make a purchase using one of the links I've provided, I'll receive a small sum of money. You can read more about my affiliations here.
Fall is my season, friends! I love everything about it! I love strutting around town in my rubber boots with big, fluffy socks. I love watching the leaves change colour and hearing them start to crunch under my feet. I love it when the air gets a little chilly, and the city smells crisp and clean. But most of all, I love the food!!!
Hot chocolate, and pumpkin scones, and soups, and stews! After a summer full of strawberries and sprinkles and whipped cream, it feels so nice to sink into the deep, savoury flavours of fall. To be warmed up from the inside out!
This low FODMAP beef stew is always one of the first fall recipes on our menu. Made with hearty root veggies and mouthwatering beef gravy, it's the perfect way to warm up after a long day. Plus, since it's made in the slow cooker, it's easy to indulge in this savoury classic, even if you're a little short on time!
PS! If soups and stews are your jam too, make sure to check out my low FODMAP soup recipe ebook! It's packed with recipes like cream of mushroom soup, chicken noodle soup, and a french onion soup you will not believe is low FODMAP (it is though, promise!).
Keep it FODMAP friendly
Warm up your insides with this savoury low FODMAP beef stew! Check out the notes below for tips on keeping this recipe FODMAP friendly!
First up, beef. Since beef is a protein, it doesn't have any FODMAPs. That means you can eat as much beef as you'd like without adding to your FODMAP load.
Next up, flour. If you're in the elimination phase of the program, you'll need to use gluten-free flour. Remember, unless you have celiac disease, you're avoiding the FODMAP fructan, not gluten itself. For my North American peeps, I'm a huge fan of PC's gluten-free flour blend.
We'll also be using garlic-infused oil. Because FODMAPs break down in water, you can't cook with high FODMAP foods without contaminating your entire dish. But FODMAPs don't break down in fats. So you can steal a little of their magic by infusing their flavour into fats like butter and oil.
Be careful when choosing infused oils, though. Not all infused products are low FODMAP. First, check the bottle for any garlic pieces or sediment. Then check the label for ingredients like "natural flavour," "garlic extract," or "garlic essence," "garlic," etc. Products like this aren't genuine infused oils, and so they're high FODMAP.
If you're having trouble finding a pure infused oil at your local store, grab this Monash University certified garlic-infused oil by Fody Foods Co.
Next up, beef stock. Finding a low FODMAP beef stock can be tricky! Since most products have garlic and onion, as well as other high FODMAP ingredients like celery. If you can't find a low FODMAP beef stock at your local store, you can grab my easy beef stock recipe.
This recipe has no FODMAPs, so it won't add anything to your FODMAP load. Heads up, the FODMAP math for this beef stew was calculated using my beef stock. If you use something else, you'll need to adjust your FODMAP math.
We'll also be using carrots and potatoes. According to the Monash app, carrots and potatoes don't have any detectable FODMAPs. So you can add as many as you'd like without adding to your FODMAP load.
Next up, leeks. Monash has determined that the green part of a leek is low FODMAP in servings of 2/3 of a cup (54 g) per sitting. Servings of 1 cup (75 g) or more are high in the FODMAP mannitol,
Our recipe calls for 1 cup of leeks total, which works out to about 9 g per serving. This is well within Monash's recommended range.
Last but not least, mushrooms. Monash has determined canned mushrooms are low FODMAP in servings of 6 mushrooms (75 g) per sitting. Servings of 200 g or more are high in the FODMAP mannitol.
We'll be using 1 cup of mushrooms total, which works out to 23 g per serving. This is well within the recommended range.
Canned mushrooms are lower in FODMAPs than their fresh friends because some of the FODMAP content leaches out into the canning brine during storage. The FODMAPs are still in the water, though. So make sure you rinse your mushroom before you add them to your stew.
FODMAP math
Wondering how this low FODMAP beef stew stacks up? Check out the notes below for information on how many servings of each FODMAP group are in 1 cup of this recipe.
Fructose = 0
Lactose = 0
Fructan = 0
GOS = 0
Polyol = 0.6 (Mannitol)
Want to try this hearty low FODMAP beef stew? Don't forget to
PIN THIS RECIPE
for later!
Print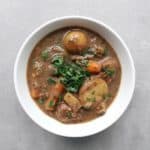 Low FODMAP Beef Stew
---
Author:

Amy Agur

Total Time:

10 hours 20 minutes

Yield:

8

servings

1

x
Description
Embrace the flavours of the season with this rich and hearty low FODMAP beef stew!
---
2.5

lbs stewing beef, cubed

1/4 cup

low FODMAP flour

3 cups

low FODMAP beef stock

16

baby carrots

10

mini potatoes, halved

1 cup

leeks – green part only, diced

1 cup

canned mushrooms, rinsed

1 tsp

dried basil

1 tsp

dried oregano

1/2 tsp

dried rosemary, crushed

1/2 tsp

dried sage

1/2 tsp

dried thyme

1

dried bay leaf
salt and pepper to taste
handful fresh parsley, chopped *optional
---
Instructions
Place your stewing beef and flour in a large bowl and toss to coat. Heat 1 tbsp of oil in a large frying pan over medium-high heat and add half of the prepared meat. Cook the meat until browned (about 4 minutes), then transfer the meat to your slow cooker. Add the second tbsp of oil to the pan and repeat with the leftover meat.
Add the beef stock, carrots, potatoes, leeks, mushrooms, and all of the seasonings (except for the salt, pepper, and parsley) to your slow cooker and give it a gentle stir.
Cook on low for 10 – 12 hours or on high for 5 – 6 hours. Season with salt and pepper to taste and serve with fresh parsley.
Notes
Recommended low FODMAP serving – 1 cup per sitting
Prep Time:

20

Cook Time:

600

Category:

Dinner, Lunch

Method:

Slow Cooker

Cuisine:

American
Nutrition
Serving Size:

1 cup

Calories:

402

Sugar:

2

Sodium:

133

Fat:

13

Saturated Fat:

2

Unsaturated Fat:

2

Trans Fat:

0

Carbohydrates:

20

Fiber:

4

Protein:

51

Cholesterol:

127
Keywords: beef stew, make-ahead beef stew, slow cooker beef stew, crock pot beef stew, classic beef stew, traditional beef stew
You might also like one of these soup recipes:
Low FODMAP short rib beef stew Looking for a savoury make-ahead dinner idea? Made with savoury low FODMAP beef stock and seasonal root vegetables, this hearty stew is the perfect way to end a chilly day!
Low FODMAP roasted tomato and rosemary soup Looking for a savoury lunch that travels? This low FODMAP roasted tomato and rosemary soup will be the talk of your lunch table!
low FODMAP Thai noodle soup Shake up your lunch routine with this easy low FODMAP Thai noodle soup! Packed with fresh flavours, this soup will keep your taste buds and your tummy happy!
If you like this post, don't forget to share it! Together we'll get the low FODMAP diet down to a science!