Looking for a decadent holiday treat? These mini low FODMAP black forest cakes will be the talk of your dessert table!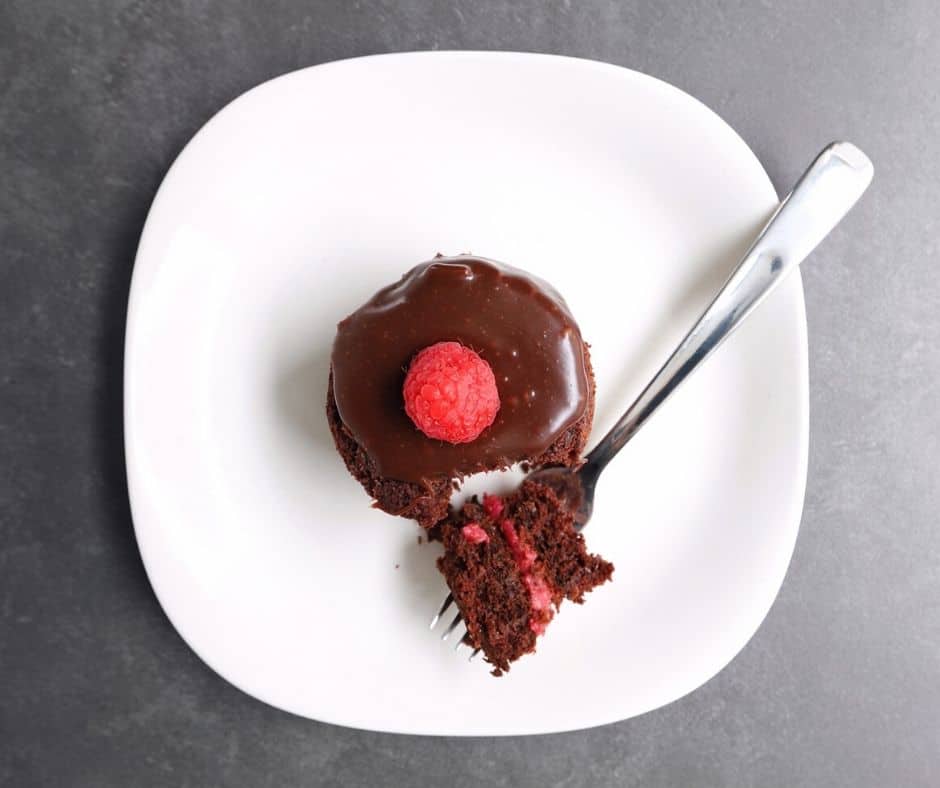 It's my birthday this week! Last year I celebrated with this epic low FODMAP confetti cake. This year I'm feeling a little glamorous, so we're celebrating with these epic mini black forest cakes!
These mini black forest cakes were my father-in-law's suggestion. He's a die-hard cherry fan and was wondering if we could try them for Christmas this year.
I wasn't sold on the idea at first since I'm not a huge fan of the cherry filling in traditional black forest cakes. Plus, fresh cherries are high FODMAP in the serving we would need (um, no thanks!).
I told him straight up cherry filling was a hard no in my books, so he might be out of luck. Without missing a beat, he sighed and said: "other fruits grow in the forest too, Amy." Five minutes later, the idea for these fantastic mini raspberry black forest cakes were born!
I decided to test them out for Christmas (and my birthday, obviously!), and when my FIL tried them, he kept repeating the word "wow" after every bite. So, if you're looking for a breathtaking recipe this holiday, I highly recommend these tasty treats!
Keep it FODMAP friendly
These low FODMAP mini black forest cakes are the only dessert you'll ever need! Check out the notes below for tips on keeping this recipe FODMAP friendly.
First up, dairy products. If you're in the elimination phase of the program, you need to use lactose-free milk, cream, and sour cream. For my North American peeps, both Natrel and Lactantia have lactose-free lines that go up to 35%.
This recipe also calls for a ton of sugar! Sugar gets a bad wrap on the low FODMAP diet because it has the "f" word – fructose. But, you don't need to panic!
Because table sugar has an equal amount of fructose and glucose molecules, the fructose is absorbed differently than when it's digested on its own. The result is that sugars like table sugar, brown sugar, and icing sugar, etc. are low FODMAP. If you want more information on sugar and the low FODMAP diet, check out my full article on why sugar is low FODMAP.
Next up, lemon juice. We'll be using our lemon juice in two ways. First, to make our delicious raspberry compote. Second, to Macgyver a low FODMAP buttermilk alternative.
According to Monash University, lemon juice is low FODMAP in servings of 1/2 a cup (125 g) per sitting. Servings of 3/4 cup (187 g) or more are high in the FODMAP fructan.
Our recipe calls for 1/4 cup of lemon juice total, which works out to 5.2 g per sitting. This is well within Monash's recommended range.
We'll also be using low FODMAP flour. Most of the things we call "flour" are actually a blend of low FODMAP grains and starches. If you're in the elimination or re-challenge phase of the program, you'll need to find a flour made with low FODMAP ingredients.
The easiest option is to start in the gluten-free section, as that automatically cuts out wheat. Remember, you're avoiding the FODMAP fructan in wheat, not gluten itself.
We'll also be using natural cocoa powder. Make sure to check the label of your cocoa powder. For this recipe, you'll need "raw" or "natural" cocoa powder, not Dutch-processed powder.
According to the Monash University app, cocoa powder is low FODMAP in servings of 2 heaping tsp (8 g) per sitting. Servings of 5 heaping tsp (20 g) or more are high in the FODMAPs fructan and GOS.
Our recipe uses 1.5 cups of cocoa powder for 12 mini black forest cakes. This works out to 8 g of cocoa powder per cake, which is within the recommended range.
Next up, raspberries! According to Monash, raspberries are low FODMAP in servings of 30 berries (60 g) per sitting. Servings of 35 berries (65 g) are high in the FODMAP fructan.
We'll be using two cups of raspberries, total. This works out to 22 g of berries per serving, which is well within Monash's recommended range.
Last but not least, dark chocolate! According to Monash, dark chocolate is low FODMAP in servings of about five squares (30 g) per sitting. Servings of 14 squares (80 g) or more are high in the FODMAP lactose, while servings of 20 squares (125 g) are high in the FODMAPs lactose and fructan.
We'll be using 170 grams of dark chocolate, total. This works out to 14 g per serving, which is well within the recommended range!
FODMAP math
You are what you eat! Check out the notes below to find out how many servings of each FODMAP group are in one of these mini Black Forest cakes. You can read more about FODMAP stacking and how to avoid it here.
Fructose = 0
Lactose = 0.5
Fructan = 1.3
GOS = 0.8
Polyol = 0
Want to try these easy low FODMAP mini black forest cakes? Don't forget to
PIN THIS RECIPE
for later!
Print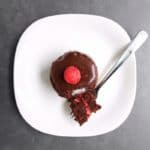 Low FODMAP Mini Black Forest Cakes
---
Author:

Amy Agur

Prep Time:

40 min

Cook Time:

25 min

Total Time:

3 hours

Yield:

12

mini cakes

1

x
Description
These decadent low FODMAP mini black forrest cakes will be the talk of your dessert table!
---
Black Forest Cake
2 cups

lactose-free milk

2 tbsp

fresh lemon juice

1

+

1/2 cups

unsalted butter, soft

1

+

1/3 cups

sugar

1

+

1/3 cups

brown sugar, packed

4

lg eggs

2 tsp

pure vanilla extract

1 cup

lactose-free sour cream

1/4 cup

homogenized milk

3

+

1/2 cups

low FODMAP all-purpose flour

1

+

1/2 cups

natural cocoa powder

1 tbsp

baking soda

1 tsp

salt
Raspberry Compote
2 cups

raspberries (fresh or frozen)

2 tbsp

cane sugar syrup

1 tbsp

fresh lemon juice
Chocolate Ganache
3/4 cup

lactose-free cream, 35%

3 tbsp

sugar

3 tbsp

water

6 oz

dark chocolate
---
Instructions
Black Forrest Cake
Preheat your oven to 250 degrees. Grease two 9 x 13″ baking pans and line them with parchment paper (leave an inch or two sticking out for handles). Set aside
Measure out two cups of milk. Replace two tbsp of milk with two tbsp of lemon juice. Give it a stir and let it sit at room temperature for 10 minutes. This will create a low FODMAP buttermilk replacement.
Add the butter and both types of sugar to a large bowl. Beat on medium speed until the butter becomes light and fluffy (about 4 minutes).
Add the eggs one at a time, beating them into the batter after each addition. Then mix in the vanilla.
Combine the buttermilk substitute, sour cream, and homogenized milk in a medium-sized bowl.
In a separate bowl, sift together the flour, cocoa powder, baking soda, and salt.
Alternate adding the flour mixture and the milk mixture to the butter (three batches of flour and two batches of milk). Divide the batter evenly between your prepared pans and bake for 25-30 minutes, or until a toothpick comes out clean. Let them cool completely in the pan. Pop them out onto a piece of parchment paper when they're completely cool.
Raaspberry Compote
Place the raspberries, cane sugar syrup, and lemon juice in a medium saucepan and bring to a boil. Let the mixture boil for about 10 minutes to thicken, then let it cool in the pot. Sotre it in the fridge to help it firm up while your cakes are cooling.
Chocolate Ganache
Combine the cream, sugar, and 3 tbsp of water in a saucepan over medium heat. Stir until the sugar has dissolved and bring the mixture to a light boil.
Remove the pan from the burner and mix in the chocolate, stirring gently until all of the chocolate has dissolved. Let the chocolate rest in the pot until it has thickened but can still be poured (about 2 hours).
Black Forrest Mini Cakes
Cut 24 rounds out of the cake with a 2″ round cookie cutter. Put half of the rounds on your serving platter and top them with the raspberry compote and the remaining cake rounds. Spoon the ganache over each mini cake and top with a raspberry. Serve with the chocolate warm, or refrigerate until the chocolate has set.
Notes
Recommended low FODMAP serving – 1 mini black forest cake per sitting
You can make the cake up to two days in advance. Cover the cakes with plastic wrap and store them at room temperature.
Prepared mini cakes can be stored in the fridge for up to 24 hours before serving.
Category:

dessert

Method:

baking

Cuisine:

German, American
Nutrition
Serving Size:

1 cake

Calories:

740

Sugar:

41.05 g

Sodium:

292 mg

Fat:

40.35 g

Saturated Fat:

21.33 g

Unsaturated Fat:

1.76 g

Trans Fat:

0.0 g

Carbohydrates:

85.22 g

Protein:

15.64
Keywords: black forest cake, mini black forest cake, gluten-free black forest cake, raspberry black forest cake
You might also like one of these dessert recipes:
Low FODMAP Lava Cakes Calling all my chocolate lovers! Made with real chocolate and a little magic, these lava cakes will satisfy any sweet tooth!
Low FODMAP Chocolate Cupcakes Have a chocolate craving that just won't quit? These chocolate cupcakes will hit you right in the sweet spot!
Low FODMAP Dark Chocolate Gelato This mouthwatering dessert is the perfect way to beat the summer heat. Made with FODMAP friendly dark chocolate squares, it's rich, bold flavour will leave you licking your fingers.
If you like this post, don't forget to share it! Together we'll get the low FODMAP diet down to a science!