Looking for a healthy breakfast you can make in a flash? Unleash your inner foodie on this easy low FODMAP omelet with salmon!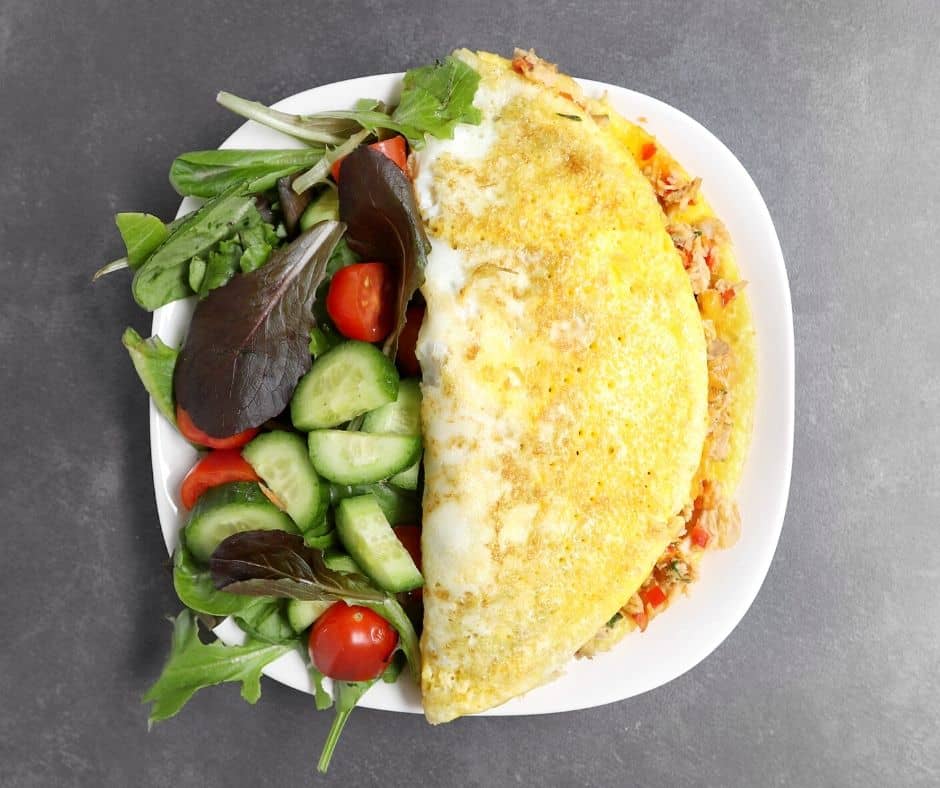 My husband and I are still camping at my in-laws' house while we for construction to wrap up at our new house (I'm pretty sure I'm going to die of old age before they're done).
But like every roommate situation, there's some negotiation when mixing two completely different ways of living. For example, my inlaws LOVE fish… Side note, I do not…
I suspect it's because my first experience with fish were these weird off-brand fish sticks from Zhers (do they even have Zhers anymore?). My sister LOVED them, and they were budget-friendly, so we ate them almost every night.
This has left me with a deep-seated trauma related to anything that can breathe underwater. Especially things that come in a plastic bag and are sold in "family size."
My inlaws have done their best to convince me that not all fish are limp, breaded, rolls of newspaper. And I'm the first to admit, their marketing is on point! So far, they've sold me on this low FODMAP grilled salmon and this low FODMAP steamed trout. They're also working on shrimp, but I won't stop calling them shrimp butts and mer-chickens, so I think they're letting that one breathe for now.
Anyway, my inlaws are planning their annual trip to Mexico, and they were reminiscing about the cactus stir-fry, and the fresh peppers, and the bottomless salsa that's on the way, when my mother in law mentioned that one of her favourite things for breakfast on the resort is a salmon omelet!
I wasn't sure how I felt about it, so she made me one out of canned salmon and some chives we had in the freezer, and it was delicious! Like – hold on, I'm going to go post about this – delicious!
So if you're looking for a healthy breakfast idea you can whip up in the time it takes someone to say: "I don't know how I feel about fish in an egg sleeping bag," have I got a treat for you!
Keep it FODMAP friendly
This easy peasy omelet with salmon will make you feel like the ultimate foodie! Packed with sauteed salmon, red peppers, and chives, you'll be whipping up this omelet for every meal! Check out the notes below for tips on keeping this recipe FODMAP friendly!
First up, eggs! Since eggs are a protein, they don't have any FODMAPs. That means you can eat as many as you'd like without adding to your FODMAP load (yay!).
We'll also be using salmon. Salmon is also a protein, so it won't add any FODMAPs, either. If you're using canned salmon, make sure to check the label for added FODMAPs like onion and garlic.
Next up, red bell peppers. These used to be listed as "eat freely" in the Monash app. But Monash recently retested them and they now have a much smaller serving.
According to the updated information, red bell peppers are now low FODMAP in servings of 1/3 of a cup (43 g) per sitting. Servings of 1/4 of a pepper (57 g) are high in the FODMAP fructose.
We'll be using 1/4 cup of chopped bell pepper, which works out to 19 g of pepper per omelet. This is well within Monash's new recommendation.
This recipe also calls for cheddar cheese. Monash has determined cheddar cheese has only trace amounts of lactose, so it won't add anything notable to your FODMAP load.
Last but not least, chives. According to the Monash app, chives don't have any FODMAPs either. So you can adjust the amount you use to your taste (the more, the merrier!).
Pick your sidekick
Think your omelet looks lonely on its own? Honestly, this recipe is pretty filling if you're eating it for breakfast. But if you're serving it as a hearty brunch, I'd recommend pairing it with a classic low FODMAP garden salad, these cozy low FODMAP potato wedges, or, if you're feeling extra fancy, a flaky low FODMAP croissant!
FODMAP math
Wondering how this low FODMAP omelet with salmon stacks up? Check out the notes below to see how many servings of each FODMAP group are in one omelet.
Fructose = 0.4
Lactose = 0
Fructan = 0
GOS = 0
Polyol = 0
Want to try this easy salmon omelet? Don't forget to PIN THIS RECIPE for later!
Print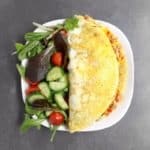 Low FODMAP Omelet with Salmon
---
Author:

Amy Agur

Total Time:

15 minutes

Yield:

2

servings

1

x
Description
This easy low FODMAP omelet with salmon is so good you'll forget it's low FODMAP!
---
2 tbsp

unsalted butter, divided

1

fresh salmon filet or 1 can of salmon packed in water (

100 g

)

2 tbsp

fresh chives, diced

1/4 cup

red pepper, diced

4

eggs

1/4 cup

cheddar cheese, shredded
---
Instructions
Heat up 1 tbsp of butter in a medium-sized frying pan over medium heat. Add the salmon, chives, and pepper and sautee for 2-3 minutes (or until the pepper is soft). Set aside.
Place your eggs in a small bowl and gently mix them together with a fork (don't whip them). Melt the remaining butter in the pan and add the eggs. As the eggs are setting, lightly lift the edges of the omelet to let the uncooked egg flow underneath.
Once the egg is cooked, spread the salmon mixture over one half of the omelet and cover with cheese. Fold the remaining half of the omelet over the filling and cover the frying pan with a lid for 1-2 minutes to let the cheese melt. Once the cheese has melted, cut the omelet in half and serve immedaitely.
Notes
Recommended low FODMAP serving – 1/2 – 1 omelet per sitting.
Monash recently updated the low FODMAP serving size of red bell peppers. This recipe has been adjusted to be compliant with their new recommendation
Prep Time:

5

Cook Time:

10

Category:

breakfast

Method:

stovetop

Cuisine:

american
Keywords: salmon omelet, salmon and cheese omelet,
You might also like one of these breakfast ideas:
Low FODMAP Vegetable Frittata Packed with fresh vegetables, eggs, and cheese, you'll have breakfast fit for a foodie in just 20 minutes!
Low FODMAP Eggs Benedict Made with freshly poached eggs and savoury hollandaise sauce, these low FODMAP eggs benedict are the ultimate comfort food!
Low FODMAP Salmon Toast Topped with creme fraiche, chives, and buttery smoked salmon, these tasty salmon toasts will start your day with a bang!
If you like this post, don't forget to share it! Together we'll get the low FODMAP diet down to a science!