Have a sweet tooth that can't be tamed? With a rich, silky texture and a deep, bold flavour, this low FODMAP maple whisky fudge is so good you'll forget it's low FODMAP!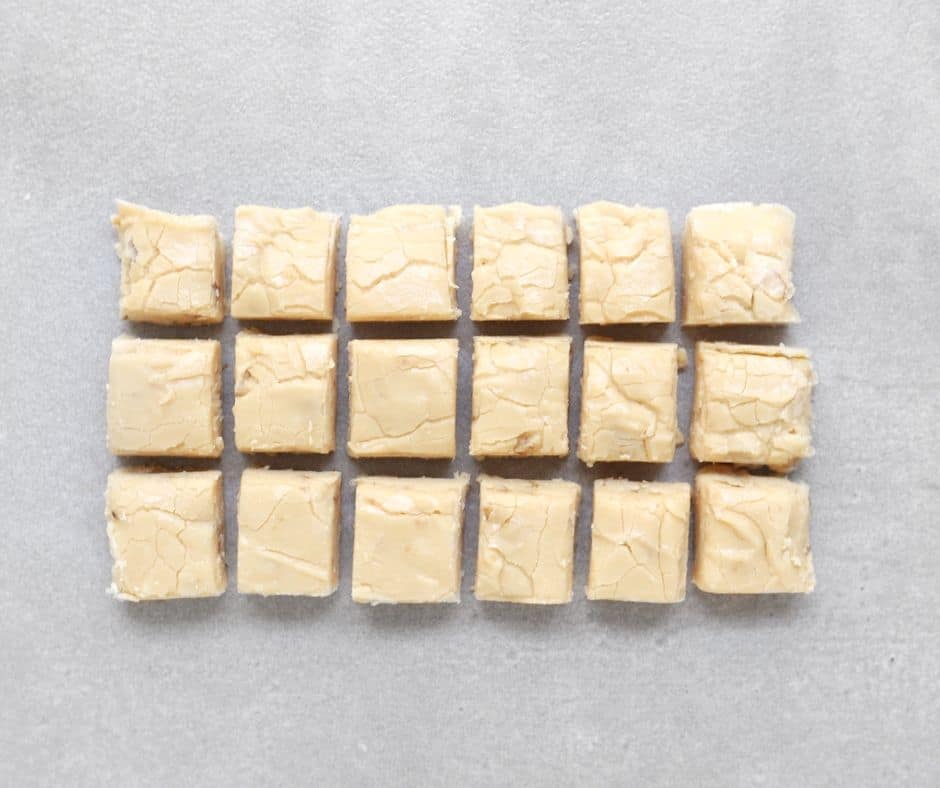 I think this maple whisky fudge is made of magic. Seriously! The first time I made it, I couldn't stop eating it. I was home alone with 32 pieces of fudge and a pending tummy ache, so I packed up the surviving pieces and took them with me to the gym.
I know what you're thinking. That's a super weird place to bring a bunch of fudge… But when I'm testing recipes, I often end up with more treats than I can physically eat. So I like to share the love whenever I can. I usually get a little ribbing from the trainers for bringing cookies, cupcakes, and butter tarts into our calorie-killing sanctuary, but they're always happy to sample a new treat and give me some feedback.
When I arrived at the gym, I dropped off the fudge at reception and was scolded (again) for tempting everyone with my sugary nonsense. But their scolding was pretty short-lived. Once a few of the trainers had tried a piece (or three), word spread around the gym that there was magic at the front desk. The fudge was gone in under 1o minutes. It was crazy!
So what makes these treats so irresistible? First of all, by using maple syrup instead of traditional corn syrup, your fudge will have a clean, crisp flavour. Plus, maple syrup has such a deep, rich taste it adds a ton of depth to this tasty treat. But, the secret ingredient is whisky! While the alcohol itself will burn off when you boil the sugar, it leaves behind an exceptional layer of flavour you can't get from sugar alone. So, whether you're looking for a tasty holiday dessert or an afternoon pick-me-up, this low FODMAP maple whisky fudge is the sweet to beat!
Keep It FODMAP Friendly
This easy low FODMAP maple whisky fudge is a treat lover's dream! Check out the notes below for tips on keeping this recipe FODMAP friendly!
First up, maple syrup. According to Monash University, maple syrup is low FODMAP in servings of 2 tbsp (50 g) per sitting. But Monash doesn't list a maximum serving size.
We'll be using 1 cup of maple syrup total, which works out to 12.5 g per serving. This is well within Monash's recommended range.
Next up, sugar. There is some confusion about sugar on the low FODMAP diet. Some people are hesitant to include sugar in their low FODMAP program because it contains fructose. But, during the low FODMAP program, you're trying to manage fructose on its own and fructose in excess of glucose (when there is more fructose than glucose in a product – like in high fructose corn syrup).
Because table sugar is made of equal parts glucose and fructose, it's digested differently than fructose on its own. That means there won't be any fructose molecules floating around your digestive tract causing trouble. Because of this, Monash has determined sugars like table sugar, brown sugar, icing sugar, etc. are low FODMAP.
That being said, anyone who has survived a Halloween or two knows sugar is a general gut irritant. So try to enjoy these tasty treats in moderation.
Next up, whipping cream. If you're in the elimination phase of the low FODMAP program, you'll need to use lactose-free whipping cream. For my North American peeps, Natrel and Lactantia both have lactose-free lines that go up to 35% fat.
We'll also be using butter. But, unlike other dairy products, butter doesn't have any FODMAPs (because it's all fat). This means you don't need to buy lactose-free butter. Just remember to check the ingredients for added milk products like milk, cream, or milk solids, and you're good to go.
Our recipe also uses whisky! According to Monash, whisky is low FODMAP in servings of 30 ml (about one shot or 2 tbsp). We'll be using 30 ml total, which is well within the recommended range.
If alcohol is a trigger for you, don't panic! The alcohol content will burn off in the first few seconds of the boiling process. So you'll get all the magical flavour, but none of the tummy troubles!
Last but not least, walnuts. I asked you guys on Instagram whether you were yay or nay on nuts in your fudge and you were split down the middle! So if walnuts are your jam, put them in. If you're not feeling them, feel free to leave them out. But, just so you know, according to the Monash app, walnuts are low FODMAP in servings of 10 nut halves (30 g). Servings of 35 halves (135 g) are high in the FODMAP fructan.
Our recipe uses 1/2 a cup of walnuts total, which works out to 0.9 g per serving. This is well within Monah's recommended range.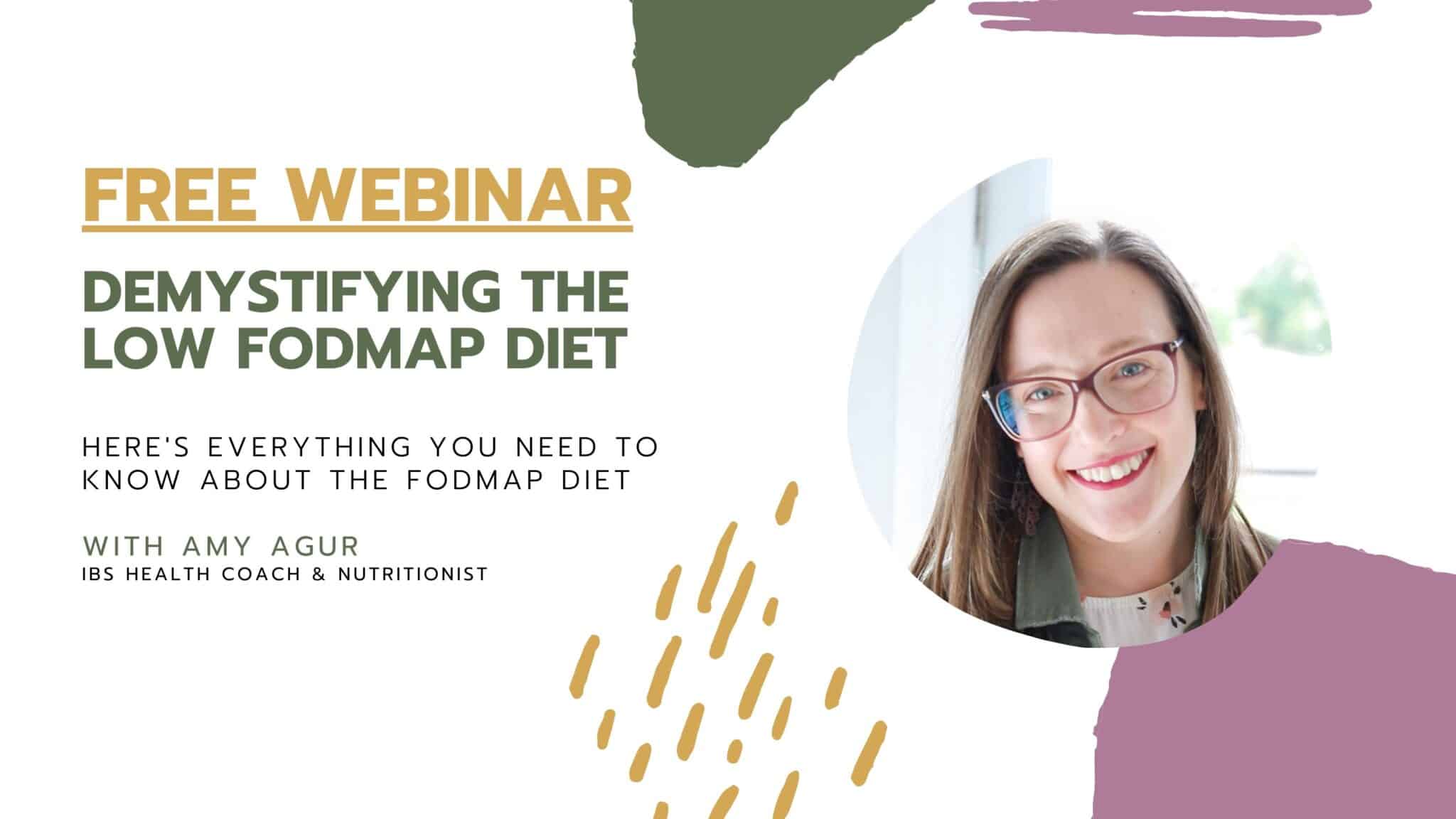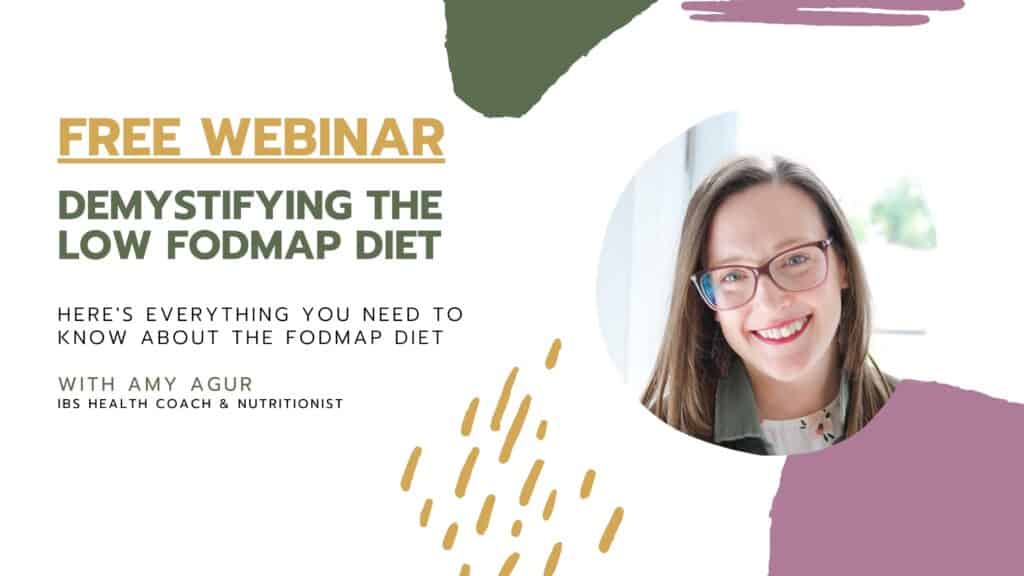 FODMAP Math
This easy maple whisky fudge can tame any sweet tooth! Check out the notes below to see how many servings of each FODMAP group are in one piece of this fudge.
Fructose = 0
Lactose = 0
Fructans = 0.03
GOS = 0
Polyols = 0
Pick Your Sidekick
I have a huge sweet tooth! So I always have a few treats kicking around for when I need an afternoon pick-me-up. If you need a little something to brighten your afternoon, try pairing your fudge with this low FODMAP London fog! This low-key earl grey latte is the perfect pair for the rich, bold flavour of your fudge!
Want to try this low FODMAP maple whisky fudge? Don't forget to PIN THIS RECIPE for later!
Print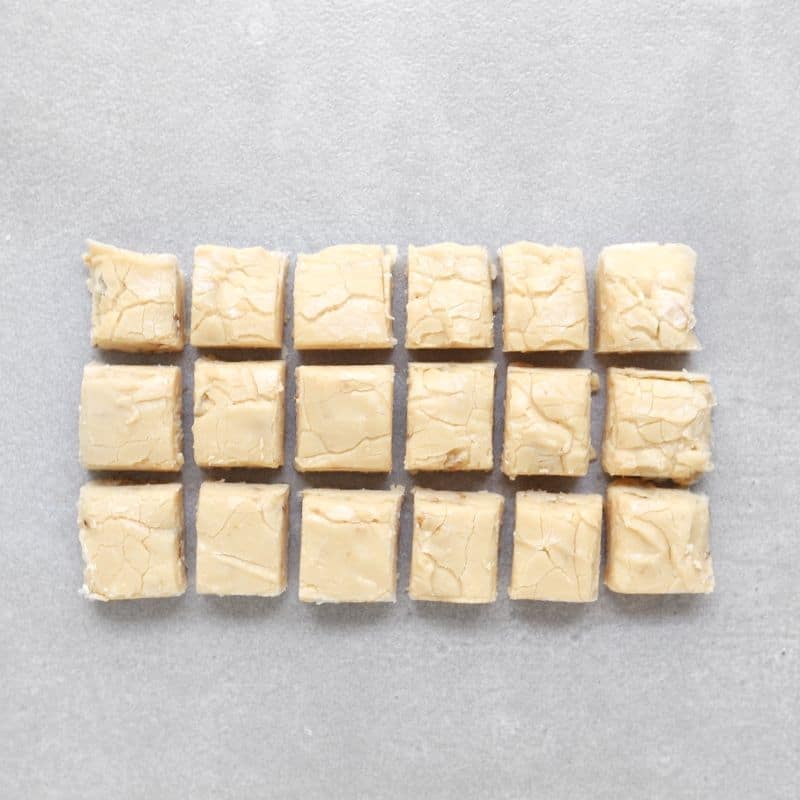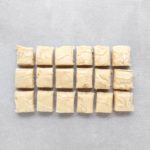 Low FODMAP Maple Whisky Fudge
---
Author:

Amy Agur

Total Time:

2 hours

Yield:

3

2

1

x
Description
Looking for the ultimate sweet treat? This low FODMAP maple whisky fudge will hit you right in the sweet spot!
---
1 cup

pure maple syrup

1 cup

granulated sugar

1 cup

lactose-free whipping cream (35%)

0.25 tsp

salt

2 tbsp

whisky

3 tbsp

unsalted butter

0.5 cup

walnuts, chopped *optional
---
Instructions
Line the bottom of an 8 x 4″ pan with parchment paper and set it aside.
Combine the maple syrup, sugar, cream, salt, and whisky in a large pot. Stir over medium-heat until the sugar has dissolved, then stop stiring and let the sugar come to a boil.
Allow the sugar to boil down until it reaches 238 degrees fahrenheit or the "soft ball" stage on a candy thermometer (about 20 minutes). Once the sugar has reached temperature, remove the pot from the burner and stir in the butter.
Pour it into a heat-proof mixing bowl or the base of a stand mixer. Allow it to cool on the counter for 30-45 minutes (don't bug the fudge while it's cooling).
Once the fudge is cool, beat the batter on meduim-low until it's thick and has a dull, light colour (about 5-7 minutes).
Microwave your walnuts for 20 seconds, then fold them into the fudge. Pour the fudge into your prepared pan, then cover the pan with plastic wrap and refrigerate for 1-2 hours (or until firm).
Remove the fudge from the pan and cut into 32 pieces. Enjoy!
Notes
Recommended low FODMAP serving – 3 pieces (you can have multiple pieces without exceeding your FODMAP load, but the heart and stroke foundation of Canada recommends limiting sugar intake to 48 g per day. So try to stick 3 squares).
Store in the fridge for up to 5 days or freeze for up to 2 weeks.
Cook Time:

2 hours

Category:

Dessert

Cuisine:

American
Nutrition
Serving Size:

1 square

Calories:

98

Sugar:

13

Sodium:

22

Fat:

5

Saturated Fat:

3

Unsaturated Fat:

2

Trans Fat:

0

Carbohydrates:

13

Fiber:

0

Protein:

0

Cholesterol:

13
Keywords: Fudge, Maple, Whisky, Walnut
Final Thoughts
This low FODMAP maple whisky fudge is pure magic! If you like this recipe, don't forget to share it. Together we'll get the low FODMAP diet down to a science!
You might also like one of these low FODMAP dessert ideas:
Low FODMAP Lava Cake Calling all my chocolate lovers! Made with real chocolate and a little magic, these lava cakes will satisfy any sweet tooth!
Low FODMAP Butter Tarts Ready to tackle a classic Canadian treat? With a sweet and clean taste, butter tarts will delight your taste buds without distressing your tummy. Enjoy!
Low FODMAP Chocolate Cupcakes Have a chocolate craving that just won't quit? These chocolate cupcakes will hit you right in the sweet spot!
If you like this post, don't forget to share it! Together we'll get the low FODMAP diet down to a science!