Are you a fan of cookie dough? While cookie dough crumbs are irresistible, easing them can be a little risky. So if you're looking for a sweet treat without a side of salmonella, try this easy low FODMAP edible cookie dough!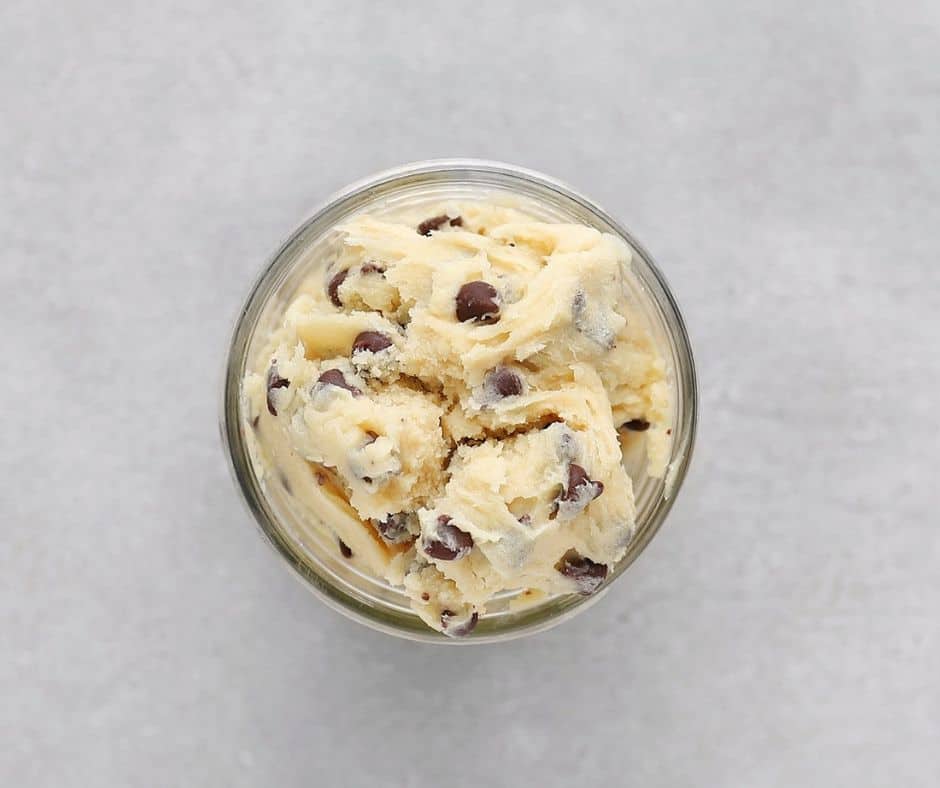 No matter how many times my mom tells me not to eat raw cookie dough, at least one spoonful always ends up in my face. I can't help it! Cookie dough has that perfect pre-cookie texture you can't get anywhere else! So what's a cookie fan supposed to do? The answer is this easy low FODMAP edible cookie dough!
This edible cookie dough has everything you love about raw cookie dough without the risk of, you know, dying (or at least getting sick). While the texture is a teeny bit different (hey, there's no eggs in here!), it's still perfect for projects like cookie dough ice cream, sundaes, or eating it right out of a bowl (no judgement here, friend!).
Heads up! Did you know that eggs aren't the only thing in cookie dough that can make you sick? Raw flour can become contaminated with E. Coli (no thanks!). After two separate E. Coli outbreaks in the US, the FDA recommends sanitizing flour products that are eaten raw.
We'll make sure your flour is safe to eat by toasting it in the oven (this can be done in bulk and in advance). To toast your flour, spread it out on a baking sheet lined with parchment paper and bake it at 350 degrees for 15 minutes. Seriously, don't skip this part! No one gets sick on my watch!!
Keep It FODMAP Friendly
Cure your cookie dough cravings with this easy low FODMAP edible cookie dough! Check out the notes below for tips on keeping this recipe FODMAP friendly!
First up, flour. If you're in the elimination phase of the program, you'll need to use gluten-free flour. Make sure to check the label for other high FODMAP ingredients. Just because a product is free from one FODMAP, doesn't mean there aren't other high FODMAP triggers lurking inside. For my Canadian peeps, I'm in love with PC's gluten-free all-purpose flour.
Remember, unless you have celiac disease, you're managing the FODMAP fructan in wheat, not the gluten itself.
Next up, brown sugar. Sugar gets a bad wrap on the low FODMAP diet because it contains fructose. But the goal of the low FODMAP program is to manage fructose in excess of glucose, specifically.
Because sugars like brown sugar are made of equal parts glucose and fructose, they're digested differently by the body. Since the fructose molecules are correctly absorbed, brown sugar is low FODMAP.
We'll also be using milk. If you're in the elimination phase of the program, you'll need to use lactose-free milk. This won't add anything to your FODMAP load.
We're also using butter. But, according to Monash University, butter doesn't have any FODMAPs (because it's all fat). So you won't need to splurge on a lactose-free product. Just make sure to check the label for added milk ingredients like milk, cream, milk solids, etc., and you're good to go.
Last but not least, chocolate chips. According to Monash, dark chocolate is low FODMAP in servings of 5 squares (30 g) per sitting. Servings of 14 squares (80 g) or more are high in the FODMAP lactose, while servings of 20 squares (125 g) or more are high in both lactose and fructan.
We'll be using 1 cup of chocolate chips total, which works out to 17.5 grams of chocolate per serving. This is well within Monah's recommended range.
FODMAP Math
Wondering how this low FODMAP edible cookie dough stacks up? Check out the information below to see how many FODMAPs are in each serving of this recipe. You can learn more about FODMAP stacking and how to avoid it here.
Fructose = 0
Lactose = 0.6
Fructans = 0.2
GOS = 0
Polyol = 0
Want to try this low FODMAP edible cookie dough? Don't forget to PIN THIS RECIPE for later.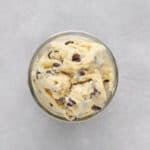 Low FODMAP Edible Cookie Dough
Do you prefer your cookie dough without a side of salmonella? Whip up a batch of this easy low FODMAP edible cookie dough!
What You Need
0.75

cup

unsalted butter

(room temperature)

1

cup

light brown sugar

1

tsp

pure vanilla extract

0.5

tsp

salt

1.5

cups

low FODMAP all-purpose flour

(toasted)

0.25

cup

lactose-free milk

1

cup

low FODMAP chocolate chips
What You Do
Add your butter, sugar, vanilla, and salt to a large bowl. Beat with an electric mixer on low until all of the ingredients are thoroughly combined.

Increase the speed to medium-high and continue to beat the dough until it becomes pale and fluffy (about 2-3 minutes).

Lower the speed and slowly add the flour. Continue to mix the dough until the flour is fully combined. Then add the milk and increase the speed to medium. Beat until it looks like cookie dough (about 30 seconds).

Fold in the chocolate chips with a wooden spoon and refrigerate the dough for 1 hour (or overnight).
You might also like one of these:
Low FODMAP Mug Cake Need to satisfy your sweet tooth on the fly? Your next sugar fix is only 6 minutes away with these dangerously easy low FODMAP mug cakes!
Low FODMAP Cake Doughnuts Looking for a sweet treat that won't upset your tummy? These light and fluffy doughnuts are so tasty no one will guess they're low FODMAP!
Low FODMAP Chocolate Cupcakes Have a chocolate craving that just won't quit? These chocolate cupcakes will hit you right in the sweet spot!
If you like this post, don't forget to share it! Together we'll get the low FODMAP diet down to a science!